Written by J.B. Shepard, professional pet photographer, amateur dog mom gift enthusiast, and founder of the Puptrait Studio in Baltimore, Maryland.
Dog Lovers Love Dog Themed Gifts!
Is the dog mom's favorite? Of course they are! Which is why our dog blog team has put together a Mother's Day gift guide just for dog moms. Below you'll find a wide assortment of gift types, ranging from weird and whimsical to practical and heartfelt.
We've also made sure to include gifts at a number of different price points, including a few luxury dog inspired gifts, gifts under $25 and FREE / DIY gift ideas for those dog lovers on a tighter budget.
When is Mother's Day 2020?
Mother's Day this year is Sunday, May 10th. Which at the time of writing this post, leaving just a few short weeks to plan something fun in celebration of everyone's favorite parent (sorry, Dad!).
Mother's Day gift ideas for dog lovers
We've compiled a list of our favorite gifts for dog lovers – any of which would make a great Mother's Day gift for any dog mom (even, if you are the dog mom).
FREE / DIY Dog Mom Gift Ideas
When it comes to gifts, it's the thought that counts. This sentiment is especially true if you're a starving artist (like us), a college student, or just anyone else who finds themselves dead broke in the second week of the month.
Homemade Dog Biscuits
Dogs love treats. So, if your mom adores her dog, she will absolutely love this affordable but thoughtful gift idea. Dog biscuits are surprisingly easy to make. Even if you would never trust your cooking skills enough to feed another human, odds are their dog will still love whatever you manage to bake – even if they are a little burnt.
Feel free to borrow our homemade dog biscuit recipe. The recipe is easy to follow and uses common ingredients most folks already have in their kitchen cupboard. If you're missing an ingredient or two, we've included links to where you can find them on Amazon. You're welcome!
Coupons for Puppy-Sitting
Sometimes it really is the thought that counts. Most dog moms plan vacations around their dogs, simply because they can't stand the idea of putting their dog up in a kennel for any extended period of time or leaving their pup with anyone they don't trust. By printing or handwriting a small coupon book offering your own services as a puppy sitter, you're acknowledging that the dog mom puts her pup first and freeing them to take that dream vacation that they've been putting off for years.
Volunteer with or donate to a Rescue in their name
It's an unfortunate reality but many shelters and dog rescues are over crowded, understaffed and underfunded. By donating your time or a few dollars to a rescue in the name of your favorite dog mom you're recognizing their passion for pets and nurturing nature, as well as helping care for unhomed pets that are still looking for their furever family.
Sometimes, it really is the thought that counts
This is an especially great gift for any dog lover that recently lost one of their favorite fur babies. Even if their dog can no longer be with us anymore, they'll smile knowing that your thoughtful gift helped save the life of another pup. If you can figure out where the dog mom you're donating on behalf of rescued their dog, we recommend donating there. But there are a number of other great dog rescues and shelters that could use your support, including smaller volunteer operated nonprofits such as Bella's Bully Buddies, or larger rescues and shelters like MD SPCA or BARCS.
Dog Mom Gifts Under $15
Under a budget, but not especially crafty? No worries! Here are a few super affordable dog mom gifts. While not the most expensive items on the list, these gifts are things that your mom will likely use often. And when she does, she'll have you to thank!
Slow Treater
Slow Treaters are a handy home grooming aid that are so simple and obvious to use that you can't help but this "Why didn't I think about that?". They suction cup onto tiled surfaces and can be smeared with peanut butter – keeping dogs both interested and distracted while they are being bathed. And, priced at only $11 these super useful motivational aids are one of the more affordable products on this list.
Dog Paw Socks
If your family is big into giving ridiculous / "I can't believe someone actually sells these" gifts, you're going to love these animal paw socks. You can pick up a pair of these novelty paw socks for $9 on Amazon.
Dog Mom Gifts Under $20
Mudbuster Paw Cleaner
Portable Paw Cleaners, like the Mudbuster, are one of the cheapest and easiest ways to keep your floors and carpets free of muddy paws. To use, simply add a little water, insert the muddy paw, twist gently, dry and repeat. These portable paw cleaners are small enough to pack along when taking trips to the park or on hikes, and are very easy to clean. Prices vary depending on the size selected ($15-$23).
Paw Print Picture Frame
This DIY keepsake maker kit is an easy and affordable way to immortalize your dog mom's favorite. The frame comes in three colors (black, grey, and white) and is available as a solid frame or hinged frame. The left side fits a photo of your favorite pup and the right holds a mold of the dog's paw print. The mold is easy to setup and doesn't require mixing or baking.
The kit includes everything you need to complete the project (including air dry claw, a handy mini rolling pin, shaping square, and double-sided tape) – all that's missing is the dog and their photo. Best of all, since the frame fits a smaller 4×6 photo, you don't need to use a huge photo. Though hiring a professional pet photographer to take their picture couldn't hurt. Price varies by color ($17 – $20).
Pet Wand Dog Shower
While no substitute for a visit to a professional groomer, these dog shower attachments are a must have for dog owners who bath their own pets – especially those with dogs who have thicker fur coats. These shower wands can be used indoors or outside, operated with one hand and come with an extra long 8 foot long flexible hose. You can find these handy dandy pet bathing aids on Amazon for just under $20 with free Prime shipping.
Dog Tote Bag with Sequin Collar
This fun little tote bag (18″ long, 6″ wide, and 14″ tall) is a bit less ridiculous than our last two gifts, but still offers its fair share of whimsy. The dog's collar is sequined and is available in gold, silver and pink. The back of the tote reads "My Best Friend" is a fun handwritten-style brush script. Prices vary depending on the color selected ($18 – $24).
Dog Towel with Hood & Waist Belt
Whalegate's hooded dog towel solves one of the messiest problems with bath time – drying. The super absorbent 400G fabric dries dogs quickly and prevents them from having an opportunity to shake themselves dry. The hooded towel attaches to itself around the dog's neck easily with the help of velcro. The towel can be even more securely fasted with the help of an included waist belt — allowing it to double as a warm dog coat or as a way to mitigate shedding when traveling. Prices vary by color ($19-$23).
Dog Mom Gifts Under $50
Most of the experts we surveyed while assembling this list agreed that a "good" price point to aim for when considering what to buy for Mother's Day was "around $50". Whether your mom agrees or not is another story entirely.
Cozy Cuddler Dog Bed
Cozy Cuddler pet beds play right into a dog's natural instincts to dig and burrow. The bottom section is your standard padded pet bed. But attached to the top is a matching blanket creating what we can only describe as a "puppy pita". Dogs are free to sleep within the bed or on-top of the attached blanket. These pet beds are great for dogs that are cuddlers, generally anxious or fearful of outside noise or storms. The beds are both washer machine and dryer safe. Prices vary $34 – $50 depending on size and material.
This Hilarious Pit Bull Wine Rack
Contrary to what the listing says, I'm not so sure how much this wine holder actually looks like an American Pit Bull Terrier. In all honesty, the paws look far more like those of a cat than those of any dog we've ever met. But as pet lovers and fans of wine, we thought the design was too funny not to include on the list.
The vague resemblance to a mishmash of different domesticated species makes it even that much better of a gag gift / conversation starter. And, who knows? If your mom is that big of a wine drinker, she may not even notice. Priced at just under $25, this unique piece makes for a great lighthearted gift option.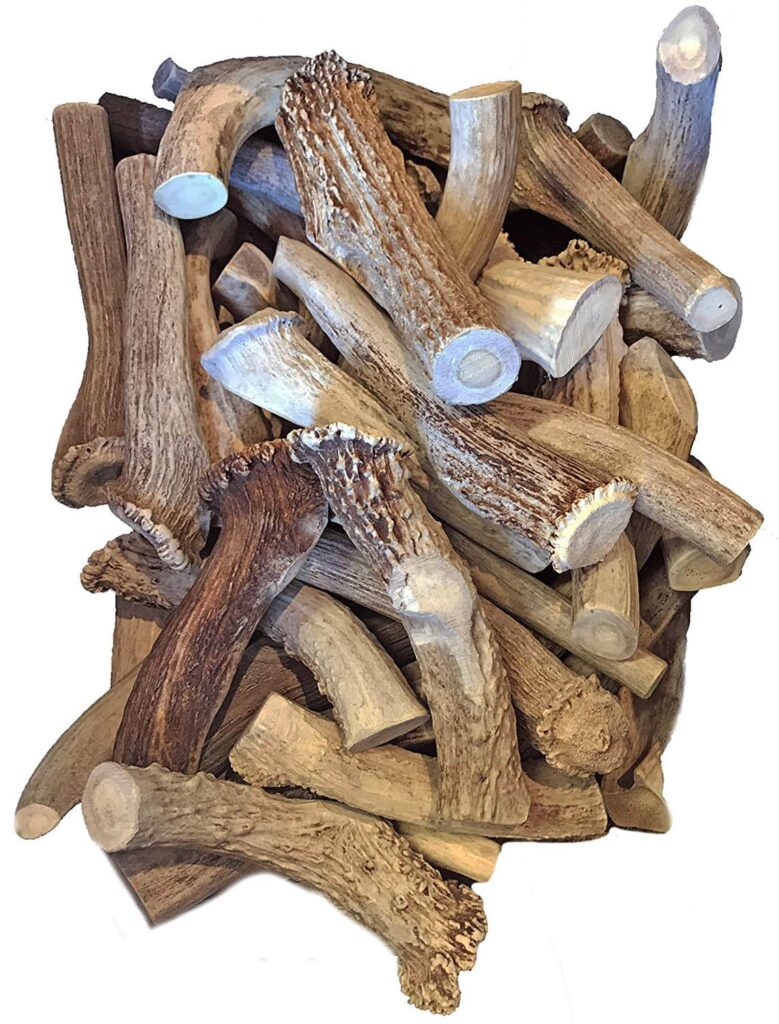 All Natural Deer Antler Chews
Deer antlers are an excellent natural alternative to bones — especially for heavy chewers. Antlers contain many of the same benefits of bones, as they're great for cleaning dental plaque and loaded with minerals. But they're far less likely than bones to shard, meaning they're less likely to result in a bowel obstruction or require a complicated / expensive surgery.
It's also worth mentioning that antler sheds are cruelty free and technically meet Vegan standards. Where a bone has to be removed from the inside of an animal, deer naturally shed antlers following rutting season. Meaning, these chew toys are essentially upcycled deer garbage.
The antlers linked here are roughly 6-7 inches in length and range from 1-2 inches thick. Like most antlers that you'll find at retailers, these chews have been scrubbed and sanitized — so they should be free of any smell or mess. A one pound package of these antlers (~2-3 large antler pieces) will set you back a little less than $37.
How to find deer antler sheds for free
If you live in an area with a relatively high deer population and don't mind a bit of hiking, you may have luck finding free and cruelty free guaranteed deer antler sheds in the woods. Typically you'll find these antlers near the base of larger deciduous trees, as bucks will scratch tree trunks when it comes time to shed.
When deer shed their antlers depends on a number of factors, but if you live in Maryland, Washington D.C., Virginia, Pennsylvania, West Virginia, Ohio and Delaware deer tend to drop their antlers anywhere from December to March. So, if you're heading out in search of antler sheds around Mother's day, be mindful of fallen leaf and foliage cover which may have since accumulated. Poking around the fallen leaves with a stick or bringing a dog along to sniff around the base of trees can be tremendously helpful.
Custom Cardboard Dog Cutout
This gift was suggested to us by the owners of the super dog friendly Blue Pit BBQ in Hampden (Thanks Cara!). These cardboard dog cutouts are an affordable option for anyone looking to give a ridiculous and memorable custom gift. Simply upload your pup's photo and they'll print the pup's likeness out on cardboard or foam core, leaving you with a free standing cutout of the dog. Prices vary depending on the vendor, size, and material you choose ($29 – $72) and can be found on Etsy or purchased directly from companies like Almost Real Standups.
Dog Mom Gifts Under $100
While not the most affordable gift options on the list, the Mother's Day gifts in the under $100 category are some of our absolute favorites for a multitude of reasons.
Professional Pet Portraits
Hiring a professional pet photographer or painter to create a custom pet portrait is a unique gift that any dog lover will cherish. Pet portrait prices vary ($500-$5,000) depending on the number and size of the prints commissioned, the material of the frame or mounting system used to hang the prints, and the skill / reputation of the artist.
While prints can be pretty pricey, many dog friendly photo studios don't actually charge that much for the photoshoot itself. For example, the Puptrait Studio in Baltimore, Maryland charges only $99 for studio sessions (and yes – gift cards are available for purchase) – a small price to pay for a gift your mother will cherish for a lifetime.
NESCO Food Dehydrator
Food dehydrators are a must have item for any dog owner. You can use these devices to preserve a wide assortment of human foods such as herbs, edible flowers, fruit, mushrooms and beef jerky. But more importantly, dehydrators make it easy to make healthy and affordable high motivation dog treats at home.
We're huge fans of NESCO dehydrators. They work great and are extremely reliable. In fact, we make all of the treats we use at the studio with the help of a NESCO dehydrator that we purchased over 15 years ago. And, priced at under $60 food dehydrators are great gift that will not break the bank.
iDig Digging Toy
Is your mom's dog a digger? If yes – then you should consider giving your mother this toy. It just might be the one thing that saves her flowers and yard. The idea of this puzzle style dog toy is pretty simple. Just hide treats in the pockets hidden within the flaps and let the dogs set to work tiring themselves out while trying to find the treats. The iDig comes in two models. One is for portable play, the other is designed to be used at home. Both models cost a little less than $80.
Elevated Pet Cot with Canopy
We are huge fans of these elevated pet beds. Similar to a dog house, these pet cots will protect your dog from the elements and lend a nice shady spot to lay in warmer summer months. But unlike a traditional dog house, these canopied dog cots are much easier to clean and are unlikely to become nests for rats, squirrels, raccoons, snakes, spiders or other animals that may be infectious, poisonous or flea-ridden. Price varies by size ($50 – $60).
Dog Mom Gifts Under $500
If money is no object or you don't mind stretching your budget a little for the woman who literally brought you into this world, you might want to give these great Mother's Day gifts a quick gander.
iFetch Interactive Ball Launcher
These interactive fetch devices are nothing short of amazing. They're simple enough for most dogs to operate on their own (supervision is recommended). Just activate the device, set the launch distance (10′, 25′, 40′, or random distance), and when the dog drops a ball in the wide mouth opening in the top it will automatically launch across your yard. Prices vary depending on the retailer and device size, ranging from $100 – $400.
Remote Dog Monitor& Treat Dispenser
Let's face it, most dog moms feel terrible whenever they have to leave their dog at home. This wifi connected dog monitor and treat dispenser means that your dog is never any further than your phone. Once networked, simply open the included Dogness app and you'll be able to watch your dog in HD 720P video. The device also supports two-way audio and can dispense dry treats up to a half inch in diameter. The Vbroad Smart Pet Camera Treat Dispenser costs $150 on Amazon and qualifies for Prime shipping.
Treat & Train Remote Reward Dog Trainer
We can not speak highly enough about this product. We were first introduced to it while working with a dog photography client that was big into agility dog training. This device differs from the networked monitor linked above and is intended to be used while directly interacting with your dog, providing motivation at a distance.
This is a super handy tool for training dogs to run agility courses, but also makes training recall commands an absolute breeze. If your dog mom is interested in taking more photos of their dog, this will make capturing action shots and photographing running dogs much easier. Simply set the device on the ground (up to 100 feet away), push the button on the included hand-held remote, and the Treat & Train will beep and release a treat. Treat & Trains are available on Amazon for $120 with Prime shipping.
Have a suggestion for a great dog mom gift idea?
We hope you enjoyed reading about our favorite Mother's Day gift ideas for dog lovers. If you think we missed an excellent gift idea, please feel free to share your gift in the comments below. We may even add your suggestion to our list of gift ideas for dog moms!
The Puptrait Studio may collect a share of sales or other compensation from the links on this page. Prices are accurate and items in stock as of time of publication.
About the author: J.B. Shepard, is a professional pet photographer, dog advocate, and founder of the Puptrait Studio. J.B. lives in Hampden, with his wife and two rescue dogs — George (a Boggle – Beagle / Boxer mix) and Lucky (a Jack Russell Terrier).