Written by J.B. Shepard, a professional pet photographer and founder of the Puptrait Studio in Baltimore, Maryland.
Dog photography costs vary. Professional pet portrait prices can range anywhere from $500 to $5,000 per dog. Most amateur and student photographers charge much less, often charging as little as $250 to $500 per session.
Because of this extreme disparity in price, it is important to understand who you are working with and what they actually plan to deliver when comparing pet photography package costs.
How pet photo prices are calculated
As a general rule of thumb, prices depend on five factors…
Skill and reputation of the pet photographer.
Time spent on the session, travel and edits.
Quality, size, mounting and number of prints.
Photographer overhead for studio expenses, permits and advertising.
Market influences such as neighborhood affluence and median income.
To make things even more complicated, not all pet photography studios weigh those different cost factors evenly. When comparing the cost of different pet photographers it is important to compare the total investment associated with working with each company.
Dog portrait sitting fees are just one part of the equation
It is extremely rare for a professional pet photographer to only charge sitting or session fees. While most reputable photographers are upfront about other costs, it's important to clarify what additional expenses you may incur upon booking your session and what (if any) costs you can't expect to incur following your shoot.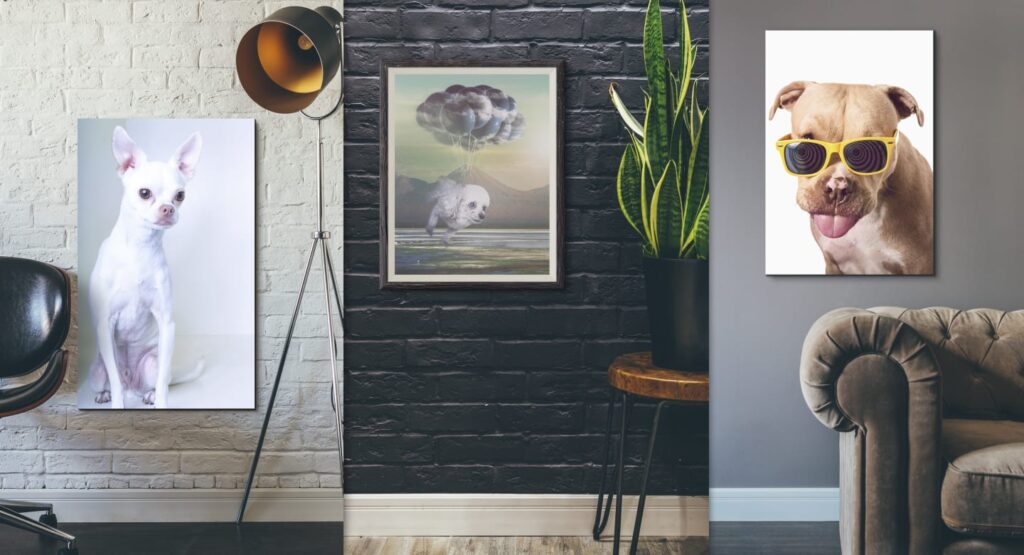 Professional pet photographer fees
Not all pet photography companies will charge for all of the fees and expenses listed below. And, even if they do charge some of these fees to some clients, some expenses may not be relevant to your specific situation. But before deciding on who to hire it helps to understand what line items the photographer bills for and how much you should expect to pay for each line item.
Common dog photographer fees
Sitting fees and session costs.
Costume, prop and set design or acquisition fees.
Studio rental fees.
Travel fees.
Location permit costs (common for sessions held at national monuments or parks).
Parking costs.
Post processing and photo editing.

Leash and collar removal.
Compositing (common with multi dog shoots).
Room and print mock-ups.

Print costs.

Framing and mounting.
Gift packaging.
Shipping and handling.
Sales tax.

Minimum print commitments.

How much do you need to spend?
When do you need to purchase by?
What happens if your order falls short?

Miscellaneous fees.

Cancellation and rescheduling penalties.
Clean up and damage fees.
Image and commercial use licensing.
Additional dog or human subject surcharges.
Rush production and expedited delivery fees.
How do photographers charge for sessions?
Some pet photography studios charge high sessions fees up front and charge little more than retail prices for their prints or other product up sells — such as personalized print items like throw blankets, coasters, custom frames, and other keepsakes.
Other pet photography companies, such as the Puptrait Studio, prefer not to charge clients a lot (if anything) up front, before the client has had a chance to see their images. In many of these instances, pet photographers may waive all of their sitting or session fees, and instead make most of their revenue off of higher priced print sales.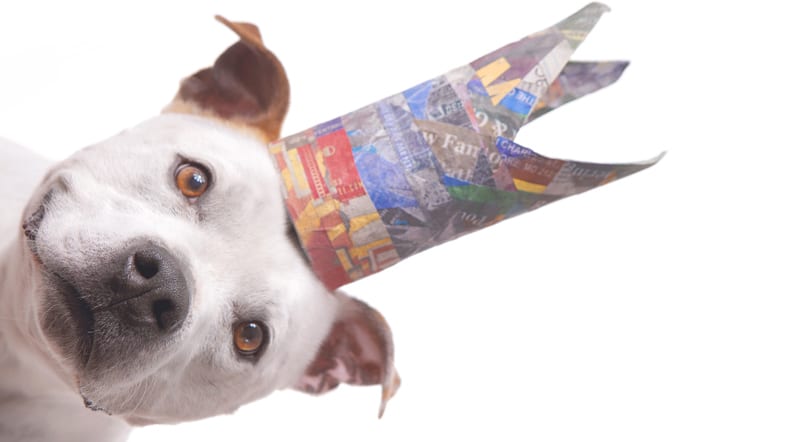 What photography pricing models are the most affordable?
No photography pricing model tends to be especially more expensive or profitable than any other.
That said, photographers who make most of their money off of print sales tend to be the most flexible (at least in regard to workable budgets) to hire. Which is one of the primary reasons we settled on working with this model. Our studio founder and lead pet photographer, J.B. Shepard, comes from a blue collar family and Baltimore is a working class town. As Baltimore is our home, we think it is important to provide photography at accessible price points.
How do "pay only for prints" pricing models work?
Here at the Puptrait Studio we don't like charging any session fees. To bring a dog in for a one-on-one portrait session at the Puptrait Studio only costs $249. That fee doesn't include any prints. But for our studio clients who decide to purchase prints, if they spend $297 or more on their first order within 30 days of proofing, we'll waive 100% of our sitting fees and apply any payments you made when scheduling your session to your print order.
"Pay Only For Prints" pricing models free clients to pay only for the photos they want
That said, it's not unusual for pet portrait clients to leave our studio with prints valued at 10x that amount. Some clients spend as much as $9,000 on prints with us. But there is nothing saying that a client has to spend that much on prints.
We leave it up to clients to decide what they think they can afford and what they think the photos are worth after viewing proofs from their session. That's not to say that print prices vary, but don't require clients to purchase any prints at all.
At the end of the day, we're going to photograph a dog the best way we know how – every time – regardless of a client's budget. Clients who spend $249 benefit from the same quality photography and the same dedicated studio time as the clients who spend $900.  And, we happily work with pet portrait clients with budgets every where in between those two price points.
Make sure you're comparing Apples to Apples when shopping for a pet photographer
When shopping for a pet photographer it's important to consider what you want to get out of the session and then compare the total cost of your session — including the cost of prints.
Make sure when reviewing dog portrait portfolios that the photographer is capable of producing the types of photos that you prefer. This might sounds obvious, but it's a point many dog owners forget to consider. Do you like more conservative styled shots or would you prefer more whimsical pet portraits?
Once you have an understanding of the style of photo you would like to walk away with, try to envision where you would hang your dog portrait. If it's a larger space, you might need a huge print to fill the wall. If you live in a smaller apartment and share living space with roommates, maybe you want to stick to a smaller and easier to frame size for your pet portrait prints.
It's only when you're able to factor all facets of your pet photography session that you will be able to fairly and accurately compare the costs of different pet photographers.
Ask lots of questions and stay informed
Any reputable pet photographer should list their session fees and print prices up front on their website. If you have any questions or doubts about a pet photographer the best thing to do is to contact the studio. If you are working with a professional pet portrait artist, they will likely prefer that you bug them with "dumb" questions than assume the wrong thing only to be disappointed later. Or worse — not consider hiring the photographer for the wrong reason.
Looking for a more affordable pet photography option?
As we mentioned above, it's not uncommon for even students to charge several hundred dollars for one on one pet portrait session. So, it should come to no surprise that professionals charge what they do. But just because photos are worth that much doesn't mean that every dog lover can afford to shell thousands of dollars on a professional pet photoshoot.
If you find yourself in a position where you have more time than money, you might want to consider trying to learn how to take better photos of your own pets. Keep in mind, pet photography isn't easy. But with enough practice and a critical eye, anyone can learn how to take better photos of their own pets.
To help aspiring photographers, we've put together a few photo technique tutorials and gear guides to get you started (without breaking the bank) — including our camera guide for photography students, pet pro guide to dog photography lenses, gear guide for snowy pet shoots, and camera guide for all skill levels.
Pet photography pricing guide
To help pet owners navigate the pet photography market we've put together a quick dog portrait photographer buying guide check list. It includes 30 must ask questions you should be able to answer before hiring a dog photographer.
We realize 30 questions might sound like a lot of questions to ask. But in all actuality, you should be able to answer most of these items pretty quickly just by visiting a few pages on the photographer's website. By keeping track of these questions in a checklist, you can make sure that you're being thorough in your research and rest easy knowing that you're unlikely to run into any surprises.
The Puptrait Studio may collect a share of sales or other compensation from the links on this page. Prices are accurate and items in stock as of time of publication.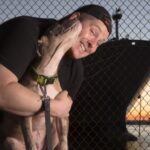 About the author:J.B. Shepard, is a professional pet photographer, dog advocate, and founder of the Puptrait Studio. J.B. lives in Hampden, with his wife and two rescue dogs — George (a Boggle) and Lucky (a Jack Russell Terrier).