Written by J.B. Shepard, a Washington D.C. based professional pet photographer and founder of the Puptrait Studio in Baltimore, Maryland.
Washington D.C. dog owners area have a wealth of options when it comes to on location pet portraits. Some of the most iconic backdrops in our country are located just a short drive from Baltimore and Northern Virginia. Between all of the national monuments, the iconic buildings and the National Cherry Blossom festival, it's no wonder why the National Mall in Washington has become a photography hot spot for environmental portraits – one of the more interesting styles of dog portraits.
But before you bring your pup to D.C. for an impromptu photoshoot, there are a few things you should consider and plan for ahead of time.
National Parks require photography permits
If you are planning on photographing your dog in a National Park for "commercial purposes" you are required to obtain a valid commercial photography permit prior to shooting. This restriction includes all National Forests and National Monuments. Meaning, if you're planning on hiring a Washington D.C. dog photographer to capture your pet in front of the Lincoln Memorial, Washington Monument, Vietnam Veterans Memorial, Korean War Veterans Memorial, Jefferson Memorial, Martin Luther King Jr. Memorial or any other iconic DC landmark you will need to acquire a photo permit from the National Park Service.
Plan ahead, permits take time to issue
Make sure you plan ahead before planning your session at a National Park. Permits can take anywhere from a few days to a few weeks to be issued, require a nonrefundable $90 or $120 application fee, and the permit itself can run anywhere from $50 to $750 per day or more — depending on how many people are being photographed, whether you are capturing commercial film, video or stills, and what kind of gear you intend to use. If you are considering hiring a pet photographer to work with your pet at a National Park location you should expect these pet portrait costs to be passed through to you the client.
Different parks and monuments require different permits
Keep in mind that different locations and monuments often require different permits and may be impacted by specific restrictions. In most places in DC, equipment is generally not allowed to touch marble – this restriction includes lightstands and tripods. Some locations, such as the Korean War Memorial, Three Service Men Statue, and FDR Memorial are restricted due to copyright – requiring artist accreditation, artist permission prior to shooting and / or limiting what kind of gear may be used during filming.
Do I need a permit to photograph dogs at national monuments?
American citizens have a right to free speech as individual under the 1st Amendment to the Constitution. If you are taking photos for personal use or to exercise your 1st Amendment right you likely do not require a commercial photography permit to shoot at National Monuments. Whether you are issued a ticket for not obtaining a permit prior or will be eventually be forced to battle said ticket in a future constitutional case before the Supreme Court of the United States is another matter entirely.
Restrictions may apply even if you do not require a permit
However, even if you do not need a permit there may be limitations of where you can photograph your dog due to security concerns or copyright restrictions. You may also be limited in what gear you can use where. As a general rule of thumb, in Washington D.C. you are not allowed to set up equipment such as tripods or light stands any where it might impede vehicle or pedestrian traffic or where it will touch marble owned by the federal government. It is important to look up these restrictions prior to your dog's photoshoot.
Penalties for photographing dogs without a permit
In our experience and from what we've gathered from other photographers in the DC area, if you try to use a tripod, light stands, or external flash it is extremely likely that you will be asked to display a permit. Failure to provide a valid permit may result in a $500 fine, 24 hours jail time and may impede your ability to obtain Federal photography permits in the future.
Obey all leash laws during your dog's photoshoot
Most municipalities have pretty strict leash laws. Even if you are photographing your dog in a relatively vacant park or wooded area, it may be illegal for your dog to be off leash. These laws are aimed at protecting your dog from running off (and preventing even more strays from entering shelters). But they are also intended to protect other dogs and people, who may respond negatively, fearfully or even aggressively if approached by a strange dog – even if the strange dog is friendly and gentle natured. Remember, even if the leashed dog snaps at your dog first, in an area with leash law enforcement is often the unleashed dog that is responsible for any damages that are caused or are the result of the altercation. For these reasons and others, make sure that it is both legal and safe for your dog to be off leash during your photoshoot.
Pet Rules at the National Mall
Dogs are welcome at the National Mall and Memorial Gardens, but there are some restrictions you should consider before making your trip to Washington D.C.. Most of these rules are simple common sense and should come as no surprise to any dog owner. Generally speaking, leashed dogs are free to transverse most areas outside, but have limited access to buildings or inside larger memorials. Be sure to account for this ahead of time. Parking can be quite scarce around the monuments and leashed dogs (whether muzzled or not) are not allowed on DC Metro buses or rail cars — unless they are a service animal or in a secured pet carrier. So, you make want to bring a stroller for smaller and less mobile dogs. You will also want to make sure that you bring water or a dish for dogs to drink from that you should be able to fill at many of the parks free water fountains and bubblers.
Pets must be on leash.
Pet waste must be picked up and disposed of properly.
Pets are welcome in most outdoor areas.
Pets are not allowed inside the buildings, in the National Sculpture Garden, or inside most of the memorials.
Do you need a permit to photograph pets in D.C.?
Long story short — if you're planning on photographing pets on the National Mall in Washington D.C., be sure to acquire a permit form the National Park service first!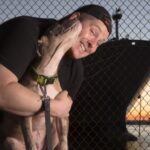 About the author: J.B. Shepard, is a professional pet photographer, dog advocate, and founder of the Puptrait Studio. J.B. lives in Hampden, with his wife and two dogs — George (a Boggle) and Lucky (Jack Russell Terrier).
Header image photo credit: Highsmith, Carol M., 1946- Carol M. Highsmith Archive. Library of Congress Prints and Photographs Division Washington, D.C. 20540 USA