Written by J.B. Shepard, a professional pet photographer and founder of the Puptrait Studio in Baltimore, Maryland.
What is the best kind of pet portrait?
Ask a dozen dog owners their favorite style of dog portrait and you're likely to get a dozen different answers back. Pet portraits can be created in a variety of different formats and mediums.
Dog portraits can be painted, drawn, photographed – even created as rendered computer graphics (CG). Just as the medium for pet portraits vary, so too can the style.
There are a lot of reasons to commission a custom portrait of your dog. Dog owners, just like their pets, all have their own preferences, tastes, and style when it comes to decorating and collecting art.
Dog photos are kind of our thing!
Are our studio specializes in capturing dog photos and creating photographic dog art we are going to stick to the medium we know best – digital pet photography. In this article we will discuss some of the more popular styles of dog portraits and creative types of pet photography.
The Basic Types of Pet Portraits
Breed Standard / Dog Show Portraits
Breed standard photo portraits are a throw back to the classic days of portrait painting. Popular with breeders and dog show trainers, this pet portrait style tends to focus on the objective distinguishable traits of the breed being photographed. These portraits are often full body and captured from the side of the dog while it is standing or from the front when they are sitting, to best highlight the shape and health of the dog's neck, withers, and haunches.
As the bite and palate of a dog are generally measured as a factors in determining the quality of breeding, dogs in breed standard portraits are typically since with their mouth closed and with their tongues remaining in their mouths. This style of pet photography is generally regarded as more traditional and is popular with more established photographers, many of whom spent most of their careers working in film.
Lifestyle / Adventure Pet Portraits
Adventure style portraits are typically shot natural landscape scenes, generally in mountainous, wooded, grassy or coastal terrain. These portraits are intended to tell a story and show a dog in what the artist envisions to be their natural environment.
This style of photography was initially made popular by commercial photographers working on travel assignments for nature magazines, printed travel guides. As well as photographers shooting advertisements for a wide variety of different types of natural, aspirational, outdoor, and athletic brands. Due to the obvious association with nature and health, it is not uncommon to see these types of dog portraits used to promote dog food and other dog related products. These photos are often captured using natural light and very fast (read expensive, camera lenses).
Environmental Pet Portraits
Environmental pet portraits are very similar in scope to adventure pet portraits, but tend to put more emphasis on creativity than activity. In this style of photography the scenery is often used as background rather than an immersive environment. Often if the dog is engaged with the scene it is typically to tell a larger story, emphasizing the dog as the protagonist.
Don't let the name fool you, environmental portraits don't always focus on nature. It is not unusual for environmental or on location pet portraits to include buildings or other human made structures and sights. Environmental pet portraits can be captured using similar gear as adventure pet portraits, but more creative photographers tend not to rely as much on natural light when shooting these kinds of pet portraits. Many professional pet photographers will often use studio style monolights or off camera flash when photographing dogs on location to light and amplify scenes when shooting environmental pet portraits.
In-Home Pet Portraits
When most dog owners look to hire a local pet photographer this is typically what they have in mind. During an in-home pet portrait a photographer comes to your house and photographs your dog inside of your home or in your yard. This style of pet photography has grown increasingly common in recent years, simply because it's the easiest form of pet portrait to photograph. It typically relies on the home owner to furnish and stage their home, so photographers who shoot primarily in-home sessions don't tend to invest as much in gear before being able to tout themselves as professionals pet photographers.
Some photographers will bring studio style lights with them and approach an in-home session similarly to how they might an environmental portrait. Some less experienced (or less scrupulous) photographers don't – either because they can't afford the equipment or they don't know how to use it. When shopping pet photographers if you see the phrase "naturally lit", "candid", or "journalistic style" odds are it means the photographer's idea of photographing a pet portrait is to just crawl around on the ground after your dog. While hilarious to watch, this methodology doesn't often result in the best quality or most creative pet photography.
Studio Pet Portraits
Photography studios that are dedicated entirely to pet portraiture are fairly uncommon. The vast majority of studios that photograph pets do so as an add-on service or as something they do on the side. It's not uncommon for family portrait photographers, wedding photographers, and commercial photographers to allow pets in their studio. However, you should never assume that a photo studio is pet friendly unless they explicitly state that they are dog friendly on their website. Photography equipment tends to be quite expensive and delicate. So, it should come as no surprise that some photographers don't want large shedding animals in their production space.
Studio pet portraits tend to be the most creative of all of the different styles of dog portraits. This is for the simple fact that studio photographers build scenes from the ground up – often quite literally – designing lighting arrangements, creating set pieces, and often making their own props and dog costumes.
Because you're working in a controlled environment, dog photos captured in studio also tend to be of a much higher quality than other styles of pet portraiture.  When working in studio there are less distractions, so controlling dogs is a much simpler task. As you are entirely dependent on artificial lighting there is no need to race the sun going down or any concerns for the weather. Freeing studio photographers to light scenes perfectly and take the time they need to account for even the finest details.
Composite Pet Portraits
Ever see a pet portrait where the dog is dressed like Napoleon and riding a horse? If you said yes, then you have seen an example of a composite pet portrait. These dog portraits often feature dogs wearing costumes or doing things that would otherwise be impossible to photograph. Some times the resulting imagery is surreal or outright ridiculous. Other times compositing is used in more nuanced and less obvious ways – such as adding multiple dogs to the same scene. These techniques have changed in recent years, but they're not new.
Photographers have been compositing and editing photos since the earliest days of film. But with the advent of digital photography and recent advancements in digital photo editing, composite pet portraits have become wildly more popular, affordable and creative.
The best composite pet portraits start as studio pet portraits. By working in studio, photographers have far more control than they do in other production environments. A competent photographer working in studio can control for background contrast (this is often how chromakey or green screens are used), lighting, angling, and the focal distance of their lens to merge subjects flawlessly with background assets. Often blurring the line between real and surreal in imperceptible and surprise ways.
Dog Photographer Sitting Fees & Availability
Live in Baltimore or Washington D.C.? Thinking about possibly booking a pet portrait session for your favorite dog?
The handy dandy online calendar widget located below will show you up-coming studio availability and even automatically calculate sitting fees for an in-home or on location pet portrait shoot in your area.

Are You an Aspiring Pet Photographer?
If you have any questions or suggestions of what to add to this pet portrait style guide feel free to reach out to me directly on Facebook or Instagram @Puptrait. I'm always happy to help a fellow pet photographer!
The Puptrait Studio may collect a share of sales or other compensation from the links on this page. Prices are accurate and items in stock as of time of publication.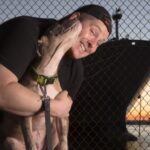 About the Author: J.B. Shepard, is a professional pet photographer, dog advocate, and founder of the Puptrait Studio. J.B. lives in Hampden, with his wife and two dogs — George (a Boggle) and Lucky (Jack Russell Terrier).