Creative Pet Portrait Styles
At the Puptrait Studio we tend to lean towards creating more ridiculous and whimsical imagery. When photographing more creative and surreal work, it's just easier to work in studio. Unsurprisingly, the vast majority of our dog portrait commissions are for studio pet portraits. But that is not to say we can't produce more conservative or traditional work.
Puptrait photographers are artists at heart
While commercial assignments aren't uncommon for our studio, they're not what we're best known for. The vast majority of the dog photos we photograph come from private pet portrait commissions. Which is just fine with us. As private pet portraits often allow a good bit more creative freedom and artistic license.  And, as any of our dog portrait clients can tell you, opportunities for creative dog photoshoots are something we like to take advantage of whenever possible.
Popular Styles of Studio Dog Portraits

Headshot Style Dog Portraits
As the name suggests, for headshot style pet portraits we use a lighting arrangement and crop similar to a professional headshot. Our two light studio setup uses power strobe style monolights to bring out details in the eyes, cheeks and snouts of our canine subjects. You might be wondering, does flash hurt dogs?  The answer is a resounding no, it's actually quite safe. Using flash when photographing dogs is no more bothersome for most dogs than it is for us humans. When in studio we use flash for many of the same reasons we use them when photographing headshots and portraits of people.
What We Crop is as Important as What We Capture
By focusing just on the head and shoulders of a dog, we're able to capture the expressions and mannerisms that are the hallmark traits of a dog's personality. Very rarely do we ever capture a dog's tail or paws. While these body parts are hallmark traits of the species, they're not what distinguishes your dog from your neighbor's. More importantly, tails and paws don't often play into how you see or feel about your dog.
Headshots Make Dogs Look More Like People
The headshot angle tends to personify dogs in portraits. In other words, it makes the dogs we are photographing look more human. If you think about it, as much as you might love the Frito smell of your dog's feet, when interacting with your pup you're probably not looking at their paws. Instead, you're looking them in the eye like you would another person.
Headshot style dog portraits are a relatively high risk reward and difficult to shoot well, as they leave little room for error. Usually if you see these types of pet portraits the photographer is working with their own dog or a professional canine model. The Puptrait Studio is one of only a handful of photography studios in the United States that is able to successfully photograph client dogs in a headshot style with any consistency.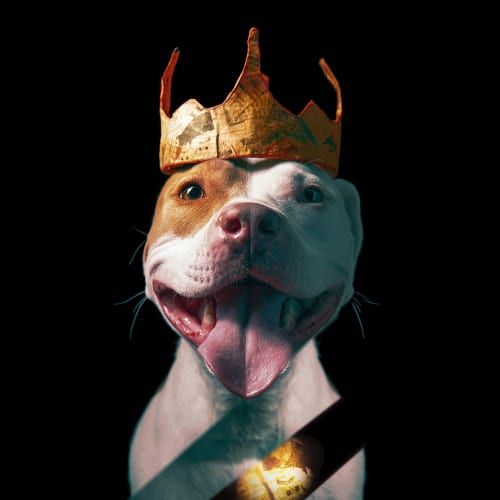 Paper Hat Sessions
Paper Hat sessions are headshot style pet portraits taken to the next level. Each hat is a unique piece. Never dyed or painted, the distinct patterning on our paper hats is the result of colored scraps of upcycled newsprint sorted and painstakingly set by hand. Due to their organic design process, no two hats are ever the same. But that's not the only reason why Paper Hats make for such unique and creative pet portraits.
Paper Hats Lend Dogs Agency
Our Paper Hats are never strapped own or pinned to out subjects. While this method is a bit more risky and does limit how often we can use each hat. But as the hats are untethered, dogs are forced to engage with their costume instead of their owners or the camera. This allows us to capture more authentic and candid expressions from dogs without compromising on clarity or sharpness.
How Do You Get the Dogs to Wear the Hats
Cropping closely on dogs allows our studio to create large format art prints, but more importantly it also allows us to get really close to dogs while remaining out of the camera frame. As our high powered studio lights allow us to capture speeds upwards of 1/200th of a second, we don't need to keep the hats on the dogs for long. That's why never worry about whether an owner thinks they're dog will wear a hat or not. We never want to put a hat on a dog that is especially sensitive about their ears being touched. And, we would never put a hat on a dog that would be stressed out, harmed or angry about wearing a hat. But for everyone else, it's really not a problem. In fact, some of our favorite poses have been captured while dogs were shaking or dislodging their hats.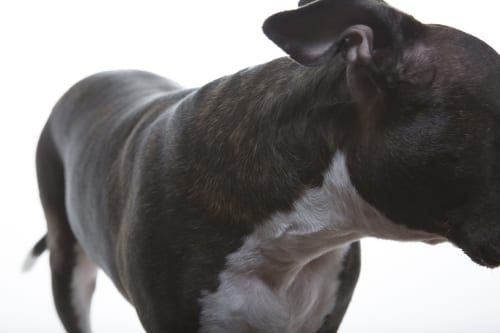 Bodyscape Dog Portraits
Typically when clients think "pet portrait" they're looking for a clear photo of a dog's face. But for clients open to more avant-garde or modern art, bodyscapes can be a striking alternative to more traditional pet portrait styles. Bodyscape is a portmanteau, combining the words "body" and "landscape".  This unique take on pet photography generally results in more abstract and thought provoking compositions.
Bodyscapes Make for Interesting Office Art
Dog bodyscapes lend art collectors and interior designers much more flexibility with where and how they hang pieces. This faceless take on pet portraits are fairly anonymous. As many of the distinguishable features of a dog are included in the face, it can often be difficult to identify which breed you're looking at in the frame – let alone the individual identity of a dog. This ambiguity tends to make the art piece more accessible to a wider audience of dog lovers. This why you often find these pieces in dog friendly retail and commercial spaces.
Popular Styles of Composite Dog Portraits
Multi Dog Portrait Composites
Multi dog portrait composites tend to be fairly straight forward. For these portraits we photograph two dogs separately (often during different photoshoots) and merge the dogs into the same final image using Photoshop. As you can imagine, this is a hand trick to have up your sleeve if you need to shoot groups of large dogs, dogs that are less than perfectly trained, or dogs that refuse to look the same way at the same time.
This compositing technique is one that we use quite often when shooting products, as it allows us to use multiple focal points in the same shot (something that is impossible to capture with a single exposure). Typically multi dog composites are offered on an as needed basis and as it is an advanced editing process, would be billed hourly (with client approval, of course).  Most multi dog composites end up running clients an additional $75-$225 per edited image.

Surreal Art Composite Dog Portraits
Surreal pet portraits are some of our favorite commissions to work on. With these pieces our pet portrait artists are no longer tethered by the constraints of what looks real or what can actually be captured in camera. Typically the only limits of these pieces are time and the creativity of our photographers. We'll work directly with clients to discover their preferred tone and aesthetic prior to shooting.
While we never know exactly what we'll make until we're done, we enter most of these sessions with the purpose of photographing a certain general concept and theme. That way we have an idea of how to best light and frame our subject in preparation for compositing. It is also helpful to have a general idea of a client's budget or intended print size before beginning these sessions. As we bill hourly for all compositing work, larger budgets do allow us to spend more time with revision rounds and execute more complex designs. Surreal art portrait commissions vary in price depending on the complexity of the composition, print size and mounting. But most surreal pet portrait clients can expect to spend in the ballpark of $4,500 – $7,500 per piece.
To learn more about how to commission or to discuss pricing for a custom pet portrait or composite dog photo art, please contact our studio for a custom dog portrait quote.
Dog Photographer Sitting Fees & Availability
Looking to book a pet portrait session for your favorite dog? The handy dandy online calendar widget located below will show you up-coming studio availability and even automatically calculate sitting fees for an in-home or on location pet portrait shoot in your area.