This is the latest installment of our interview series "Pet Product People", where we explore the brands and individuals behind the Puptrait Studio's commercial pet product photography clients.
Today we are joined by Jennifer Morrison, the founder and owner of DogVenture Gear — a Baltimore-based company that designs handmade water resistant dog collars, convertible leads, and accessories, like twisted flannel scarves and collar slips, for adventure minded and rock climbing dog lovers.
Please note that all of the brands featured in Pet Product People are commercial photography clients of the Puptrait Studio. Our studio may collect a share of sales or other compensation from the links on this page. Prices are accurate and items in stock as of time of publication.
Hello Jennifer. Thanks for joining us!
Hello! Happy to be here
Who are you? And, what do you do?
I'm the founder/owner of DogVenture Gear, a Baltimore-based company designing and creating dog collars, leads, and accessories.
How long have you been in business?
We just launched last fall (2019).
Right on. Just in time to sneak into Puptrait's Holiday Gift Guide.
We weren't even thinking about that when we launched, but it was convenient.
That is a pretty crazy time to get the ball rolling.
Agreed!
Tell me more about your products.
All of our products are really designed for adventuring, whether that means a walk to the park (in rain or not), or backpacking in the mountains. We use BioThane (R) coated webbing and rust-proof hardware, so our gear will really withstand whatever your pup gets into.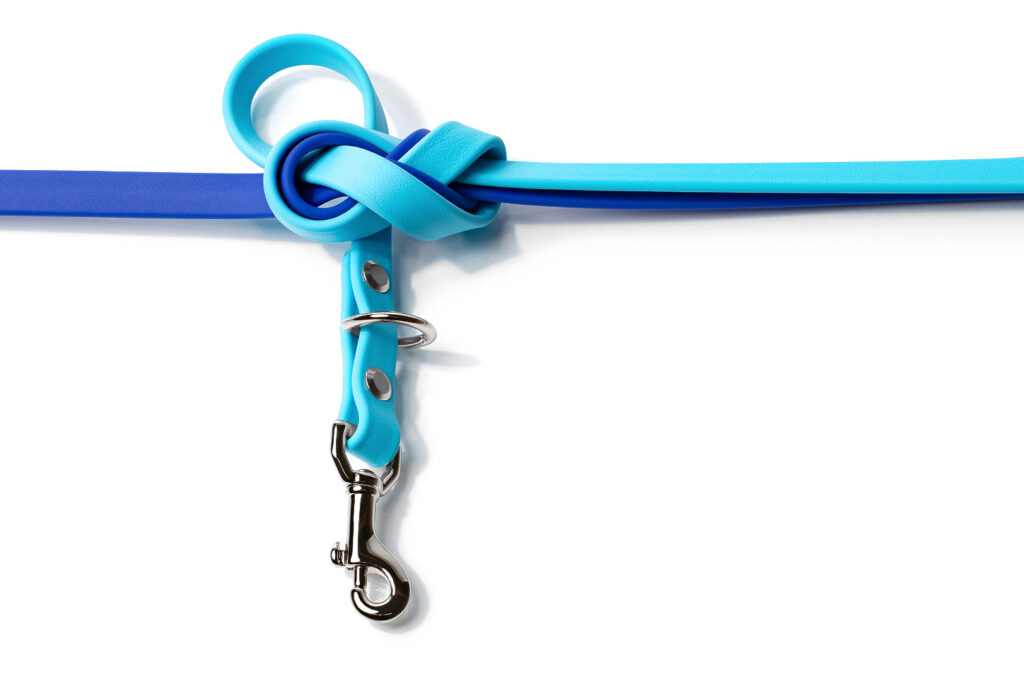 Usually when you hear the term "adventure gear" you expect things to have a stark utilitarian aesthetic to them. But your products feel very stylish. I'm seeing a lot of bright colors and interesting patterns here.
The colors are SO VIVID. 20+ options to choose from. I also really appreciate that even in the worst muck (like what my pup got into on Sunday), a rinse in the river when we were almost to the car put her bumblebee yellow collar and lead back to exactly how it looked originally.
Are your collars and leashes coated? Or is BioThane just that durable?
BioThane (R) involves an internal "core" of webbing, then that's coated in rubber. It then has an embossing that makes it seem leather-like. And, it's made in Ohio, which is nice.
Agreed. I always prefer to buy American made products. But it seems like the vast majority of pet products these days are manufactured offshore.
Right. I know a few other pet gear companies are using hardware from overseas, too. But our hardware is made in the US.
Wait — you personally make every collar and leash?
Yep! It's actually really fun to see what customers design. I provide the menu of options (hardware finishes and type, BioThane colors, sizes), so to speak, then I make it happen.
In other words, each piece is essentially custom made?
Exactly. Everything is made to order.
Of course, EVERYTHING has been tested by me, personally, plus a group of trusted adventure dogs and their humans. I get a lot of honest feedback that I incorporate before a product goes on the site
What are the kids calling that these days – Bespoke?
Hold on, let me Google that….
I may have made that up. I can never tell anymore.
Yep, looks about right.
Nailed it! So, what inspired you to start making dog gear?
It's kind of a funny story….
I'm kind of obsessed with my dog. And I'm also kind of obsessed with gear for my dog. We're rock climbers, so she goes on a lot of trips and needs all sorts of gear for different circumstances.
She absolutely loves being on the trails, so I started trail running with her pretty early on. If you've ever run with a leash in your hand, you known the pain of dealing with that awkwardness. So, I learned about hands-free leashes.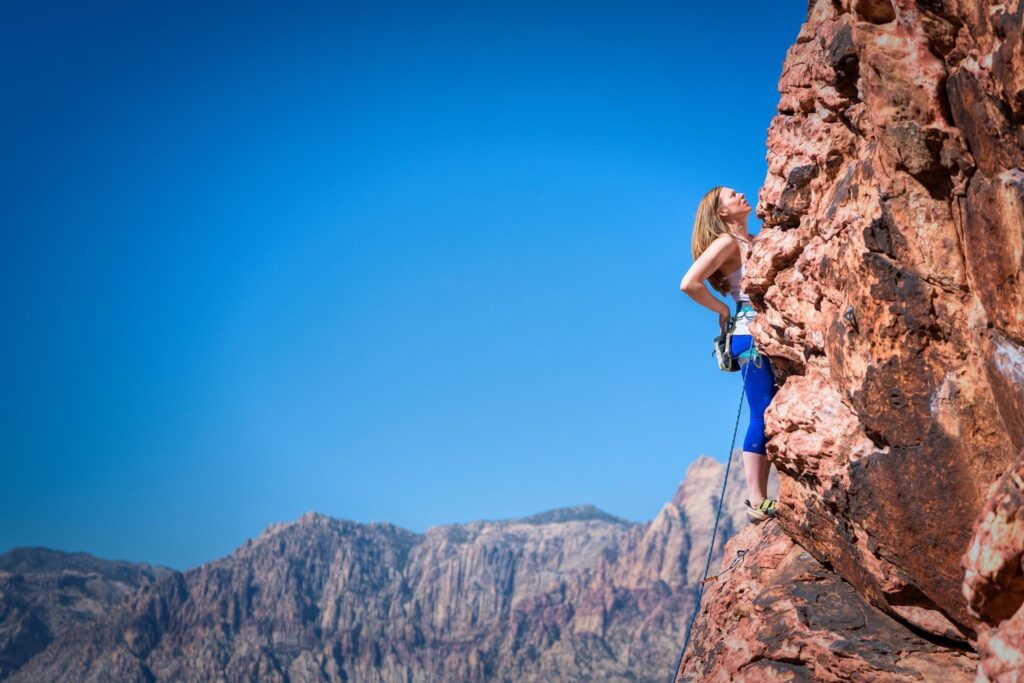 Hold up. I'm trying to picture this.
Her gear bin? It's ridiculous. We should NOT talk about that
How do you rock climb with a dog? She doesn't have thumbs.
Oh, she hangs out at the base of the climbs while we climb. She makes TONS of friends.
Anyone walking even remotely in our vicinity will get some serious wiggle butt action out of her.
I was imagining her suspended in a harness like some kind of old-timey window washer, with her paws chalked up and rocking a tiny little helmet.
She would do it if I asked her to. She regularly scrambles up all sorts of things I'd prefer she didn't. And, she does have boots with Vibram rubber, which is the same rubber in our climbing shoes
Let's rewind a bit. As you were saying…
Ok, so hands-free leashes and running is amazing, second, of course, to running with your dog off leash. But we're not supposed to do that.
What is a hands-free leash?
A hands-free leash is a leash that you can secure around your body (typically your waist) and have your hands free to do other things. The ideal hands-free leash is one that can be configured in several different ways. This sort of leash is often called a euro lead or convertible lead.
Ok. Now convertible lead is a term I have heard before. I did not know that convertible leads, euro leads and hands-free leashes were all different names for the same thing.
Pretty much, yes. Once I started trail running with one, I realized I could use a convertible lead ALL THE TIME. Because, why not? I use the term convertible lead, because that's what mine really is — a convertible lead.
Can you elaborate? What are the differences between hands-free, euro leashes and convertible leads?
Hands-free may just go around your waist and not do the other fun things a convertible or euro lead will do
Apparently I'm like Goldilocks with gear because I couldn't find what I wanted in a convertible lead on the market. It was going to be a custom order and cost a small fortune. So, I decided to try and make one myself.
It sounds like your prototype worked out. What exactly was so different about your specific use case?
I wanted one made out of really durable material because, like I said, my pup really adventures hard. She swims, she runs, she gets dirty, and regardless of all of her activities, the leashes you find in pet stores just don't look good after a while.
And, I wanted a convertible lead that also had a traffic handle. I'm not sure where I first encountered a traffic handle, but it's a loop on the leash down near where the leash clips to the dog's collar. It allows for more control and for you to keep the pup closer in certain circumstances, like crossing a busy street
Swimming is one of those things I think most dog owners don't consider when shopping collars — but probably should. I've noticed a lot of collars, especially leather ones, tend to shrink when they get wet.
Right. And, my pup is part fish. You can't keep her out of water, even when it's in the 30's. So she needs a collar that she can swim in.
But even for the not-quite-so-adventurous pups, having a collar and lead that's waterproof is still appealing. I've seen plenty of dogs and their owners walking around Patterson Park with gear that's seen better days.
We recently photographed two of your products at the studio. Were those convertible leads?
Yep! I brought you two of the blues since they're really gorgeous in person
Agreed. The colors were pretty vibrant!
It's awful when a customer designs something and then you think, "wait, that looks amazing. Maybe my pup needs one in that color combo…"
The colors really are vivid. While fabric/webbing and leather dog collars and leads will fade with time, mine will retain their colors.
Walk me through the customization process. Are the leads we photographed base models?
Those were the basic "convertible lead" options. You can then add on things like a traffic handle (a must-have for me) and a climbing-rated carabiner (one of the lightest on the market).
I brought in the nickel-plated brass hardware, but you can opt for solid brass instead, or my personal favorite, the black coated brass. I wasn't going to do black hardware because I have a collar from another manufacturer (before launching our company) that we stopped using after just a few times because the black chipped off. Then I found a really great black that has a special high-end coating that resists chips and scratches.
And, all of the hardware is rust proof?
Yep! Brass doesn't rust. It's drawback is that it can slightly discolor over time, though it's easy to clean it up.
A light patina sounds like it might make for a nice finish on a collar or leash. Do you sell many carabiners? A carabiner doesn't seem like it would be necessarily the most practical hardware.
Not too many! I know some folks really like the added security, and they do look pretty cool. The ones we use are ones I'd use for climbing. They're a nice gray that coordinates well with our colors.
Right on. I suppose that's similar to your point earlier about customers pleasantly surprising you with unexpected color combinations. The hardware combination doesn't need to make sense for everyone. But for those that want it, you can make it happen.
Absolutely. I like being able to offer it.
Made to order with an emphasis on form and function. I have to say, that's a refreshing take for a pet brand. I don't think I've seen that in the market before. At least, not priced this competitively.
I get so excited about working with people. When we were first toying with making dog gear, one of my close dog mom friends said, "you know, I wish you could make…" and it's just so fun. It's a problem to figure out and then see happy dogs/parents with what I've made.
I just delivered a custom order to someone earlier today. He had asked if I'd make a slip lead for him and I figured it would be fun to do. I might have a new product to launch now.
What is a slip lead?
A slip lead is kind of like a lead and collar in one. It's a lead that tightens around a dog's neck if they pull, then loosens once they stop. You've probably seen nylon ones at vet offices.
Come to think of it. That does sound familiar. I was looking at your website earlier and saw collars that were made from a softer material. Were those scarves?
We have a couple "accessories" right now. Twisted scarves are our take on a bandana alternative. The other accessory we're really excited about is the collar slip.
DogVenture Gear makes slip leads AND collar slips?
And slip collars!
But no slippery scarves?
The spring launch of twisted scarves might be a little slippery….
These twisted scarves, are they basically infinity scarves for dogs?
Yep! A single loop that has a built-in twist. They've been hugely popular. I actually had a customer's Colorado dog running off leash in a winter wonderland and he lost his twisted scarf. I kid you not, his mom messaged me to tell me the story, noting that he ran off and then came back with it in his mouth.
Oh, wow. I can't even imagine a better endorsement.
I thought it was the sweetest story. I also had another dog mom order one, commenting that she was fairly certain her pup would toss it off like she does bandanas. Nope, she kept it on. So far, they seem to be a hit with both dogs and their parents
I'm not surprised that dogs like them. The scarves look legitimately comfy. But for a dog that doesn't like bandanas to be a fan is something else entirely. Why do you think that is?
Agreed. I know many dogs enjoy how cozy they are. I make them of really, really soft, high-quality flannel. It's not the kind of flannel you can buy at chain stores.
We have a friend with a Great Dane who is constantly cold. He just lights up when you put a twisted scarf on him. Probably needs to move to Florida.
How long are the scarves? Do they have to be wrapped multiple times?
They come in different sizes based on your pup's neck size. They're just a single loop, so no wrapping. In another day or so we'll launch the coordinating human scarves. Those will be true infinity scarves that you loop twice.
How many patterns do you currently offer?
Probably too many
How many is "too many"?
There are 13 different colors up now!
And, they're all flannel?
Those are all flannel. Once we get a little closer to spring, we're going to launch some cotton ones. I'm really excited about the ones made from responsibly sourced Guatemalan fabric.
That sounds interesting. Is the plan to rotate materials and patterns through on a seasonal basis?
Exactly. The flannels are great for now. Some are thicker than others. As the weather warms, we'll shift to lighter weights.
I like that you are looking ahead like that — especially considering how recently you launched the company.
I keep saying I won't launch new products but then I think of something else that will be great for dog owners to have. I really love it.
If I've learned anything about living with dogs, even the more durable and higher quality fabric gear tends to get worn pretty quickly.
For sure. I do think that we have a pretty good team of testers putting gear through way, way more than the average dog. I also strongly believe in using my own gear and if I'm not happy with something, I won't make/sell it.
Just Sunday one of our testers took a new reflective collar slip out for a test run. I wanted to make sure the design would stay put on a furrier pup and I was able to check on it periodically to see how it was doing.
Right. But even if the gear holds up, it's still fun to change things up every once and awhile. Most dogs only get to wear one thing. You may as well make it something interesting.
Right. I know I'm not alone with the numerous collars my pup has.
It looks like that is all the time we have for today. Thank you for taking a moment to chat with us today, Jennifer.
Of course! It's always fun talking about the company
Where can people find your products?
We have our own site: www.DogVentureGear.com though we're also on Facebook marketplace and you can shop us through Instagram (@DogVentureGear).
DogVenture Gear Discount Code
Take 15% off your leash, collar or twisted scarf order at DogVentureGear.com with the promo code NEWGEAR15
Want to feature your brand on Pet Product People?
Pet Product People is on the look out for individual-led pet brands to feature in upcoming interviews. Spots are limited exclusively to commercial pet product photography clients of the Puptrait Studio. To inquire about having your brand featured on Pet Product People please contact the studio directly during normal business hours.
Please note that all of the brands featured in Pet Product People are commercial photography clients of the Puptrait Studio. Our studio may collect a share of sales or other compensation from the links on this page. Prices are accurate and items in stock as of time of publication.