Today we sit down with Baltimore based author and friend of the studio, Courtney Bindl, to discuss her brand new children's book, We Only Color on Paper!
Please note our website may collect a share of sales or other compensation from the links on this page. Prices are accurate and items in stock as of time of publication.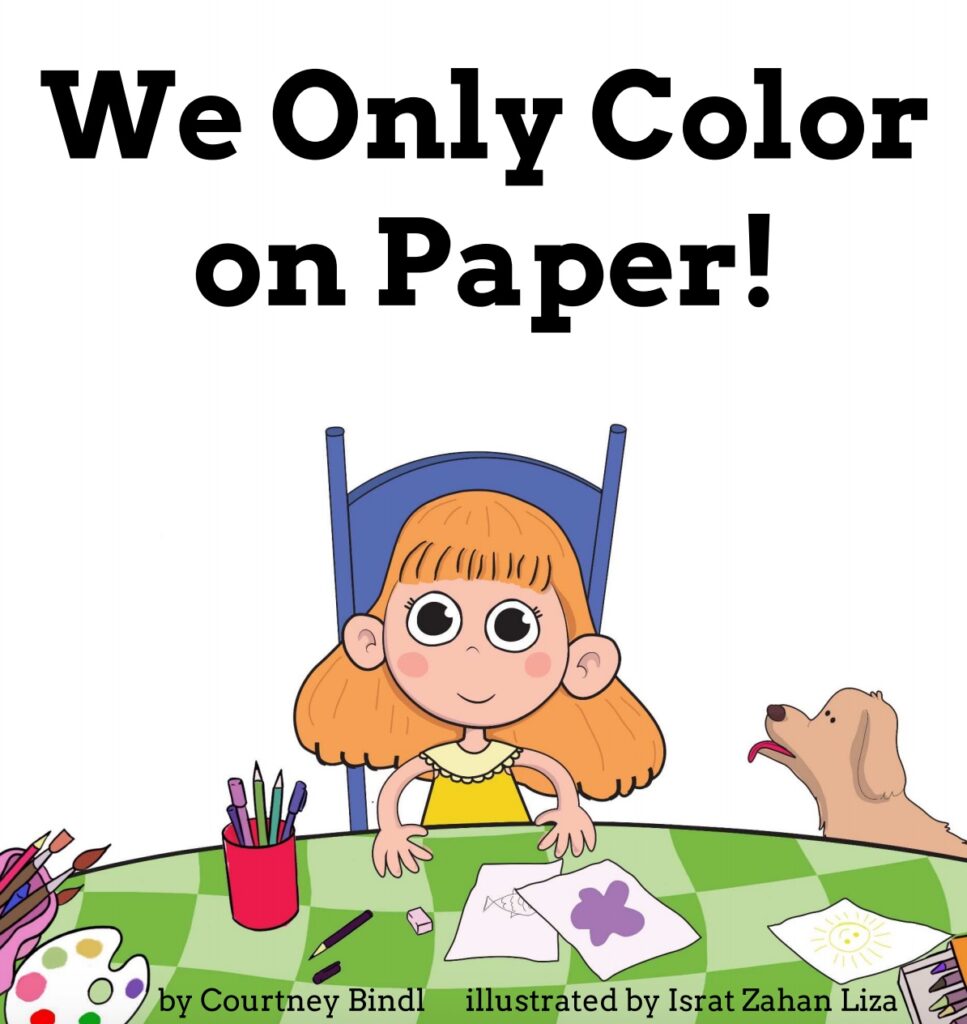 Puptrait: I'm sitting down today with Courtney Bindl the author of We Only Color on Paper!. Thank you for taking the time to chat with me today.
Courtney Bindl: Thank you for having me.
Puptrait: Tell me about your new book. What was your inspiration?
Courtney Bindl: As a parent, I heard myself saying, "We only color on paper!" to my daughter hundreds of times and I realized I had not seen a book out there that tackled that subject. I wanted to write something that was fun but reinforced the message.
Puptrait: Is that a common issue that parents face?
Courtney Bindl: Yes! Even if I didn't suspect it was, I've had a great response from other parents confirming this is very relatable. Some have even said, "I say the exact same thing!"
Puptrait: That sounds like a great reason to write a children's book. I think we've all seen those unfortunate photos of pups covered in toddler doodles. But I always hoped that was more of a freak occurrence.
Courtney Bindl: I think it probably happens more than you think. But this dog is such a good sport.
Puptrait: I know they're fictional. But I can't help but feel for them.
Courtney Bindl: He's the goodest boy.
Puptrait: They always are. We don't deserve dogs. What's the key to working through this phase? Any tips for parents struggling with kids drawing on furniture or the family pet?
Courtney Bindl: I wish I had all the answers, but I can always try a few tips.
Repetition, for one.
I'm sure you've heard all the jokes about kids asking "why" endlessly; they really do seek to understand. I think helping them understand there's an alternative way to express themselves that's not destructive does help correct the behavior.
And lastly, stories help. That's how our ancestors taught morality lessons. Being able to associate this story with a desired behavior is a great tool.
Puptrait: I take it We Only Color on Paper! covers both of those bases?
Courtney Bindl: It does. I'm really proud to say I think this book is entertaining and a great parenting tool.
Puptrait: If it can save one dog from being drawn on, consider me a fan.
Courtney Bindl: One can hope. But our dog got a nice bubble bath and some extra love for his sacrifice.
Puptrait: What age audiences do you think will have the most fun with We Only Color on Paper!?
Courtney Bindl: I think the story is good for ages 1-6. I'm hoping by age 6 my kid gets the message.
Puptrait: Let's hope so! Where can readers purchase We Only Color on Paper!?
Courtney Bindl: We Only Color on Paper! is currently available from Amazon, Bookshop, and Barnes & Noble.