Written by J.B. Shepard, professional pet costume maker, dog portrait artist, and founder of the Puptrait Studio in Baltimore, Maryland. The Puptrait Studio may collect a share of sales or other compensation from the links on this page. Prices are accurate and items in stock as of time of publication.
It's a new year and you know what that means it's almost time again for our favorite holiday —National Dress Up Your Pet Day! In celebration the Puptrait Studio has put together a quick guide to help dog lovers make the most of festivities.
In the article below you will find a general information about National Dress Up Your Pet Day, as well as a collection of pet fashion tips, tips on where to find / make creative dog costumes on a budget, and helpful advice for photographing pets in costumes.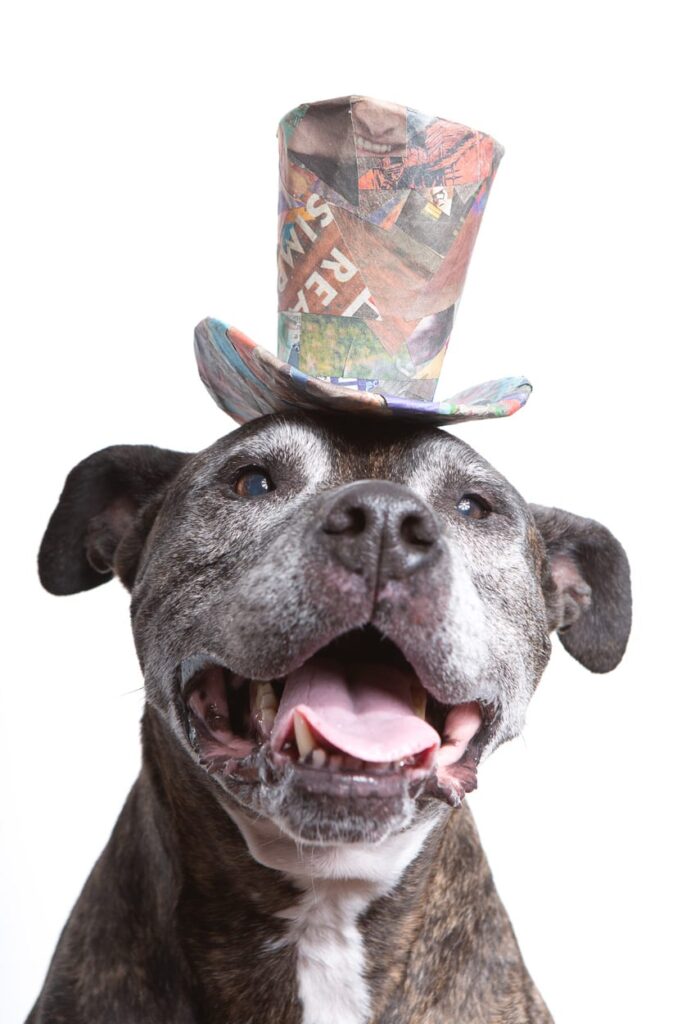 What is National Dress Up Your Pet Day?
National Dress Up Your Pet Day was founded in 2009 by Colleen Paige, a celebrity pet lifestyle expert and animal behaviorist. The fur friendly fashion holiday is intended as a fun and creative way to celebrate pets and support the growing pet fashion community.
When is National Dress Up Your Pet Day?
National Dress Up Your Pet Day is January 14th. In 2020 January 14th falls on a Thursday.
The 3 Basic Types of Pet Costumes
Whether you are planning on buying your pet costume off the shelf or heading the DIY route, it's important to first think about how the costume will be used. This is the primary point of differentiation between the 3 basic categories of pet costumes — pet clothes, worn props and stick props.
Pet Clothes
This is easily the most common form of pet costume that you will find at most pet stores and retailers that sell pet products. Unlike other forms of pet costumes, Pet Clothes are intended to be worn for somewhat extended periods of time, such as the duration of a walk. These costumes typically come in the form of a pet coat, poncho, or collar. While designs vary, the main point of distinction for Pet Clothes is that they can not be easily removed by the dog (i.e. without being chewed or ripped), often because they are somehow strapped or fastened to the pet.
Pet Clothes tend to be designed so that they look best when viewed from above and while the dog is standing. While there are certainly exceptions to this rule, most Pet Clothes tend not to look as great when viewed at or below the dog's eye level. As such, they tend not to be the best option for pet portraits, which are often photographed while the dog is seated and from a significantly closer distance, where poorly hidden or frayed seams will be more obvious.
Pros:
Easy to use
Can be worn on walks
Looks great when viewed from above
Cons:
Not intended to be viewed from the dog's level
Not great for seated portraits
Worn Props
Where Pet Clothes are intended to be worn for the duration of a walk, Worn Props are intended to make the most of a moment. Most hats, sunglasses and other clothing accessories designed for humans are considered Worn Props when used with pets. Prioritizing aesthetics over ease of use, this form of pet costume often requires more planning and effort. But those dog lovers willing to put in the extra effort are often rewarded with much more interesting and expressive pet portraits.
Many dog owners worry that their pet will never hold still long enough to wear a hat or other Worn Props. But in all actuality, that is rarely the case. The reason for this is that most modern digital cameras are quite capable of freezing moments at 1/500 to as fast as 1/5000 of a second. In other words, as long as you're ready to snap a pic as soon it's on, you really don't need the costume to stay on for very long at all.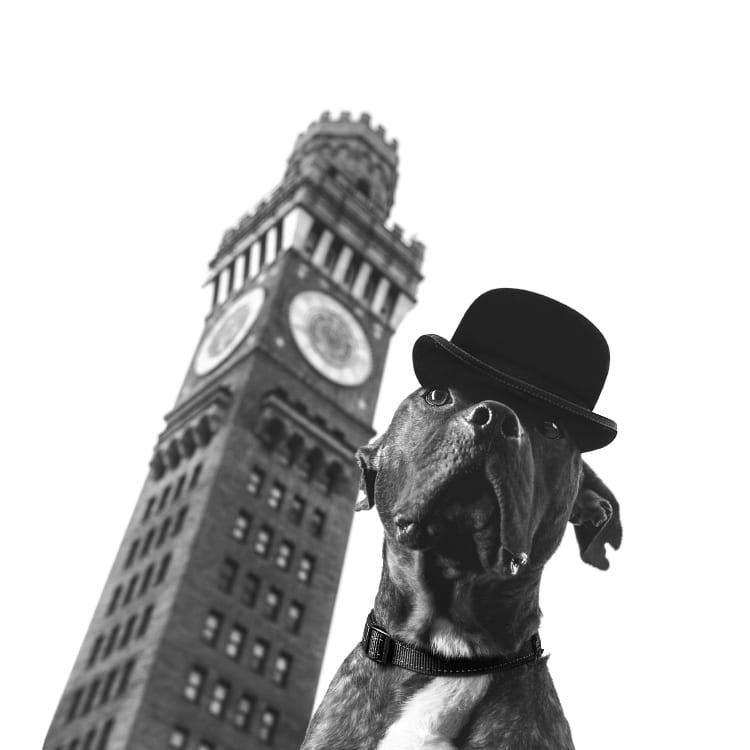 If your dog is costume or camera shy, we strongly recommend tapping a friend or family member to place the costume on the pet while you operate the camera.
Pros:
Looks great in seated photos
Alls for more anthropomorphic portraits
More DIY friendly
Cons:
More difficult to use
Not great for walks or extended wear
Often requires a photo assistant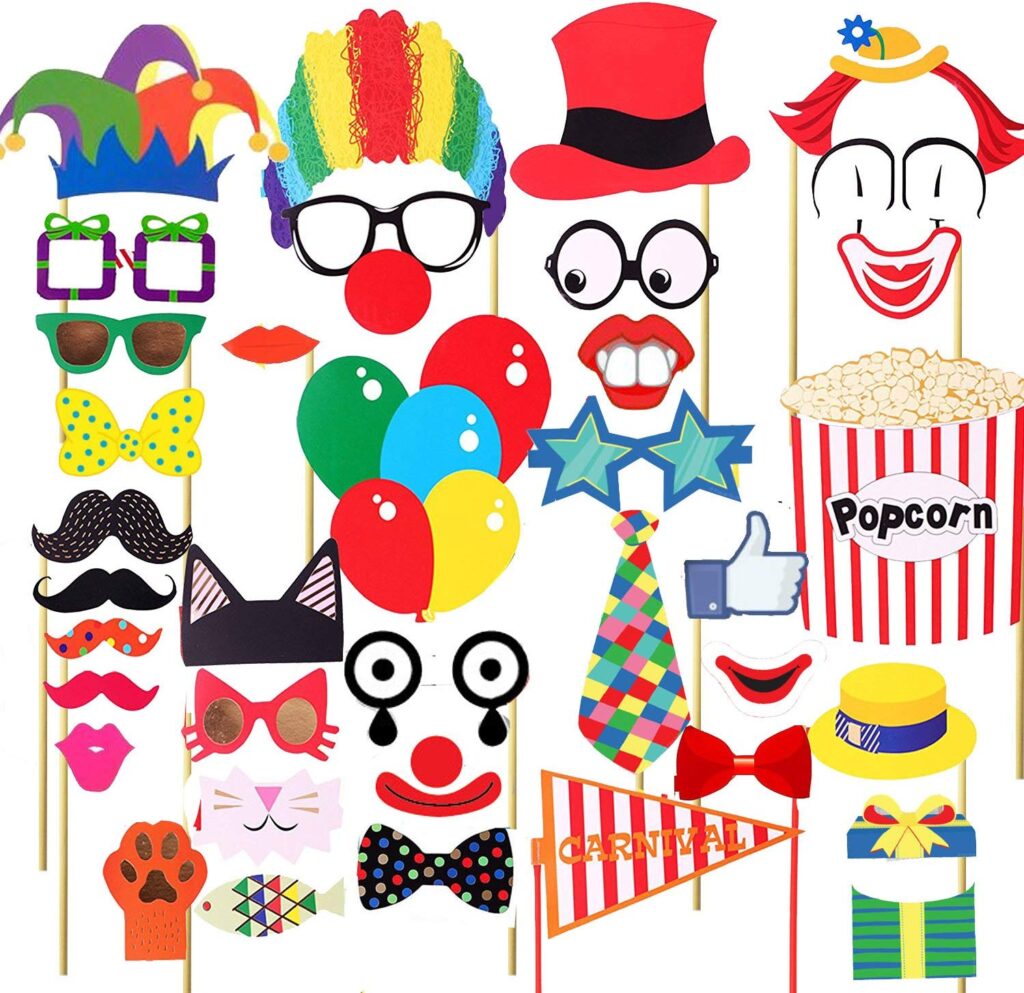 Stick Props
If you ever used a professional photo booth at an event, odds are you've used (or at least seen) Stick Props. These simple 2D props are not worn, but are instead positioned between the subject and camera with the help of a thin stick or dowel — often looking like a mustache, top hat, monocle, glasses or other easily recognizable outline.
Unlike the other costumes mentioned here, Stick Props are usually not intended to look realistic. As the sticks or dowels are often visible in the final photo, they are typically used ironically or for a kitsch effect — which is either fun / fabulous or terrible / tacky depending on the specific tone or mood that you are shooting for. Think of Stick Props as a kind of RL Snap filter.
Pros:
Easy to use
Easy to make
Cost effective
Kitsch
Cons:
Only visible from one angle
Often requires a photo assistant
Everything's a Dog Costume When You're Creative
As a professional pet photographer I honestly almost never purchase pet costumes for sessions. That's not to say that there aren't great costumes out there. But more often than not, you're going to have better luck with a costume tailored to your dog than something bought off a store shelf. For the simple fact that dogs come in an absurd range of sizes, shapes and temperaments.
On one hand, a bit of a bummer to realize that the vast majority of costumes probably won't fit your dog. But on the other hand, when you realize what types of costumes fit your dog well it opens up a huge world of creative DIY possibilities.
DIY Pet Costume Ideas for Long Hair Hypoallergenic Breeds
If your dog needs to be regularly sheared or groomed to keep their long hair in check, you have a few unique costume options available to you. If your dog has hair (instead of fur) you can actually clip lighter costumes, wigs, extensions, and other props to the dog's hair without risk of pinching or harming your pet with the help of smaller hair clips or alligator clips.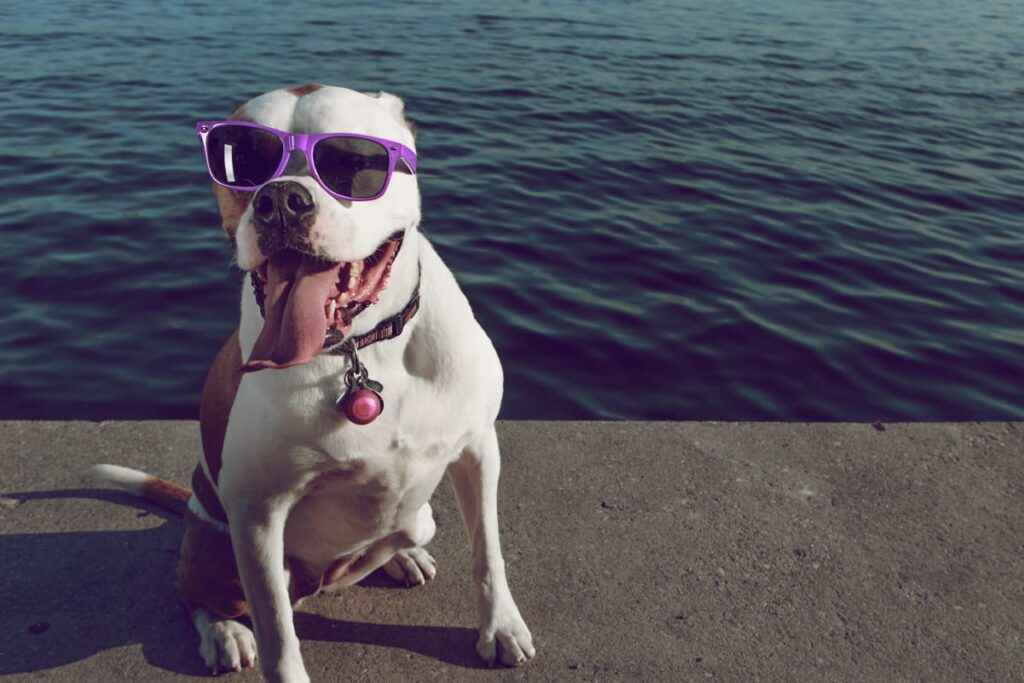 DIY Pet Costume Ideas for Blocky Headed Breeds
Staffy's, Pit Bulls, Bull Dogs, and most other brachycephalic breeds tend to be pretty comfortable wearing many types of sunglasses and headwear accessories designed for adult humans. Odds are if you live with one of these pups, you can dress them with items straight out of your own closet. Scarves, glasses, top hats, flat caps, knit beanies, berets, tiaras — I strongly recommend giving them all a shot.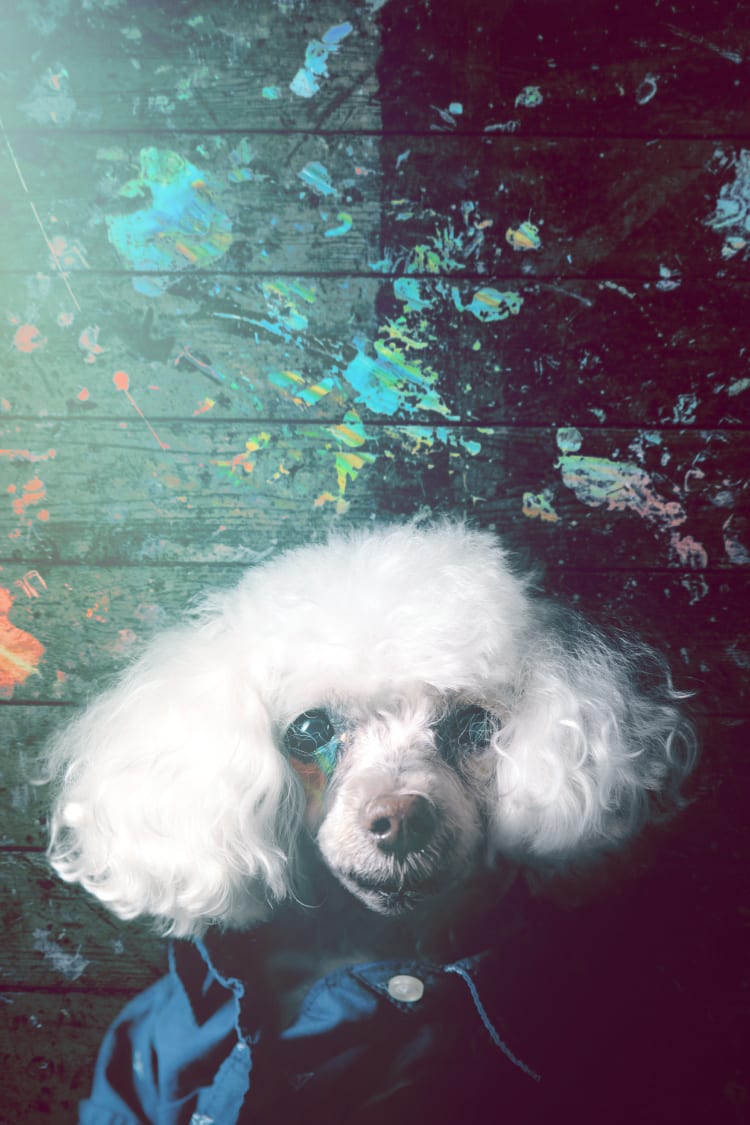 DIY Pet Costume Ideas for Toy & Small Breeds
As I mentioned earlier, I rarely ever purchase pet costumes for sessions. But when I do, what I'm actually buying are clothes for infants secondhand from my local thrift shop. It might take you a few rounds to figure out your pup's size, but it's well worth the effort.
Secondhand infant clothes tend to be super cheap ($1 – $5 per piece), of much higher quality, and are easier to put on than traditional dog costumes. More importantly, they're designed and sewn with the neck and face of the wearer in mind — meaning they will pickup better on camera when your dog is sitting for a portrait.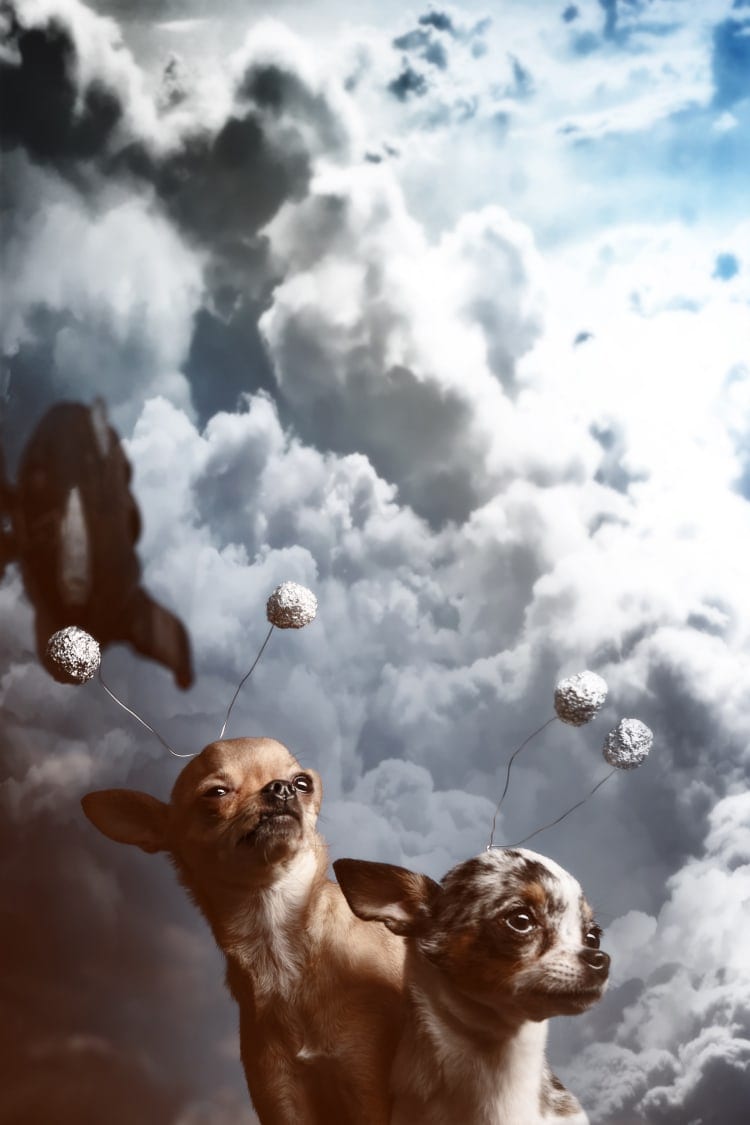 DIY Pet Costume Ideas Are Every Where
One of my favorite things about the above photos featuring a pair of Space Chihuahuas is that it shows how little it takes to make a decent pet costume. You really do not need to spend a lot of money on costumes to take creative portraits of dogs.
The costumes seen here were made from two short lengths of wire and a bit of aluminum foil. The rocket featured in the background was a sign for a neighborhood restaurant. Combined the entire production budget for props and scenery literally cost us less than a dollar.
Be Creative This National Dress Up Your Dog Day
You absolutely do not need a holiday or any other excuse to dress up your dog, but it can be a great opportunity to flex your creative muscles. There's absolutely nothing wrong with buying an off the shelf costume for your dog. But if you've gotten this far in our post, I encourage you to try to do something a little different and new this National Dress Up Your Dog Day.
The Puptrait Studio may collect a share of sales or other compensation from the links on this page. Prices are accurate and items in stock as of time of publication.
About the author:
J.B. Shepard, is a professional pet photographer, dog advocate, and founder of the Puptrait Studio. He is best known for his fine art pet pet portrait series, Paper Hats: Portraits of the once discarded. J.B. lives in Hampden, with his wife and two rescue dogs — George (a Boggle – Beagle / Boxer mix) and Lucky (a Jack Russell Terrier).