Anatomy of a Puptrait Session
a step-by-step breakdown of what goes into a typical Puptrait commission
We've designed our canine portrait sessions with convenience and accessibility in mind. When you need to speak with us we're available, with free phone consultations prior to and following your session. But otherwise you're free to move at your own speed, unrushed and unpressured with scheduling, proofing and payment tools all located conveniently online.
View available openings and schedule an appointment with our easy-to-use online booking calendar. We do require a deposit when scheduling session, but this is simply to ensure we're working with clients serious about commissioning seriously good pet art. In fact, meet your post shoot minimum print commitment and we'll waive the sitting fees for your session, so 100% of your deposit is applied to your first order.
Got your dates crossed? No worries. Rescheduling is 100% FREE with 72 hours notice.
A 15-30 minute phone consultation during which we will discuss the logistics of your shoot, as well as conceptual and aesthetic considerations. Our goal for this call is to become more familiar with your dog, its needs, where we're shooting (in home, on location or in studio), what to expect when we are on location, and what we are trying to capture conceptually.
If we have need for speciality costumes or custom designed set pieces, we'll walk through these items during our call, to ensure we keep costs under budget and production on your timeline.
The big day! We will generally spend anywhere from 1-2 hours working with your dog. Generally we like to spend the first 15-30 minutes of this time working with the dog without a camera, building trust and getting to know the dog's specific temperament, behaviors and learned commands.
For environmental portraits and in-home sessions, please allow an additional 20 minutes for set up, staging and breakdown.
We will painstakingly curate, digitally enhance and prepare for printing roughly a dozen our most frame worthy images from our session and upload the images to our website's online proofing section. Unless requested otherwise, we typically give clients about a week to view these images before we meet again to discuss printing. We encourage clients during this time to think about final placement and how different images or print sizes will look when hung in a particular room or area of their home.
Clients are free to download and share their web friendly digital proofs with friends and on social media sites like Facebook, Twitter, Instagram and Snapchat.
Once your proofs have been uploaded we'll reach out to schedule a brief print consultation. During this phone consult we'll discuss what images you prefer, where you are thinking of hanging your prints, and walk through our various printing and mounting options, including print sizes, paper finishes and mounting methods. We'll then put together a work order for the prints and email it to you for review. If everything looks correct, just pay the attached invoice online and we'll get started on producing your order.
Eliminate the guesswork with RealRoom Proofing. Normally $75 per room, this fee is waived with the purchase of a mounted print sized 20" x 30" or larger for each room rendered.
Once we receive your order we'll set to work right away creating your prints. Prints typically ship within 5-10 business days, with unmounted prints typically turned around a little quicker. Standard domestic ground shipping and tracking is already included for all private pet portrait commission print orders. Meaning you do not have to return to the studio to pick up your prints, we will deliver them straight to your door.
For those looking to receive their prints a little sooner, rush production and overnight delivery options are available for an additional fee.
All private dog portrait sessions are now sitting fee FREE
just meet or exceed your minimum print commitment and you'll only pay for prints!
We love big prints! And we want to help you afford the sizes you want. Which is why we're waiving session fees for noncommercial clients who place larger post shoot print orders. Just meet or exceed your minimum print commitment during your post-shoot print order and we'll waive 100% of your sitting fees and apply your entire deposit towards your first print order. Our print commitments start as low as $199 and are some of the lowest in the Mid Atlantic region. Please visit our fee list to view sitting fees and print commitments listed by region.
View Availability & Schedule a Session
View appointment availability, pick a shoot type and place your session deposit online using the easy-to-use scheduling app located below. If you have any questions, specific shoot requests or would simply prefer to schedule an appointment by phone, please call 443.604.0711 during normal business hours.

Questions? Call 443.604.0711 to book a session by phone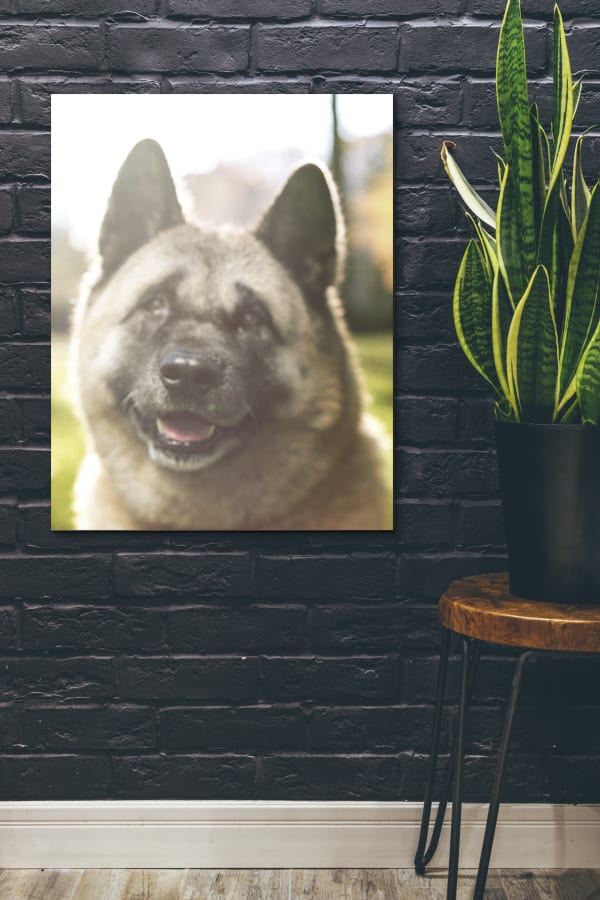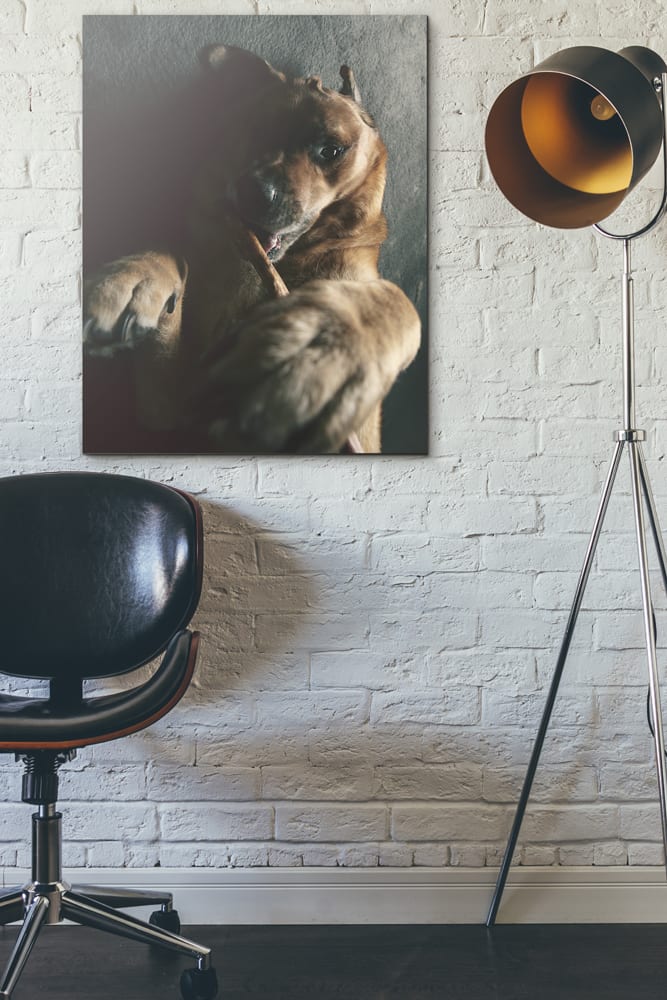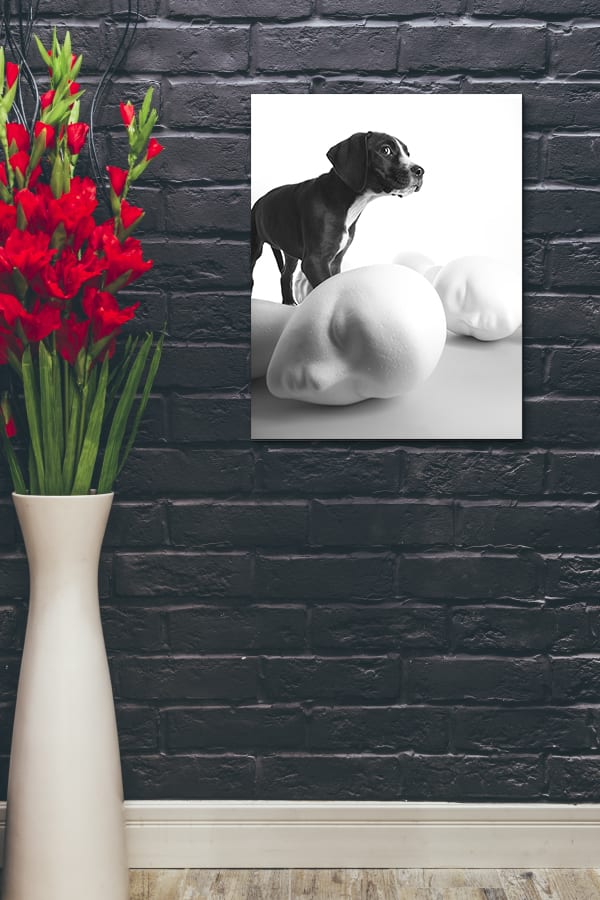 John is a wonderful photographer. He was soooo patient with our photo shoot and all the props. He remained professional at all times and got the job well. We can't wait to work together again. Dogs rule!
Eric Vocke
Co-Founder of the Baltimore Bully Crew
The Puptrait Studio was excellent to work with. They were very patient, friendly, and professional when shooting my dog Mac. Mac kept still for very short periods of time so when he ran off to try and go play, our photographer, J.B. was very patient and understanding! They took their time and got lots of shots and took their work very seriously. I would love to work with them again and so would Mac :)
C. Demski
Fells Point, Baltimore, Maryland
We had such a great time during our Puptrait session. Our photographer worked tirelessly to get a great shot of our dog (she was not very cooperative). We are thrilled with the results! Thanks again for everything!
Mrs. & Mrs. Block
Pikesville, Baltimore County, Maryland
The photoshoot was so much fun! Our Puptrait photographer managed to get great action shots of my supremely lazy pitbull, one of which I had to have him reprint for an acquaintance who liked it so much she wanted one for her own living room wall. 10/10, would highly recommend.
J. Brown
Canton, Baltimore, Maryland