We only photograph dogs.

No cats. No people.

Just dogs.
Available for photoshoots

at our Baltimore studio

and in homes throughout

Maryland, D.C. & Virginia
A gift any dog lover

would cherish for a lifetime

is now more affordable than ever,

just pay for prints!
WE WORK WITH DOGS OF ALL TRAINING LEVELS & TEMPERAMENTS
(YES, EVEN UNTRAINED DOGS & PUPPIES)
It's not uncommon for dog owners to come to us thinking their dog is "unshootable" - but in the entire history of our studio we have never (not even once!) met a dog we couldn't work with.
In fact, we have successfully worked with dogs of virtually every level of training, age, size, temperament and personality type.
PATIENT, FUN & UNRUSHED SHOOTS
It sounds simple, but one of the biggest things we find that make or break a session is patience. Dogs need time to relax, open up in front of the camera and achieve their natural (more) calm state. We find most sessions require roughly an hour of shoot time. But it's not unusual for some dogs to require more time, and in those instances, we'll stay and work with your pet for as long as we need to for no additional charge.
EASY & STRESS-FREE SESSIONS
The benefit to working with a studio that photographs only dogs, is that we're set up to meet the unique needs and expectations of dogs (and their owners). We know what works and what doesn't. Regardless of whether we're shooting in-home or on location, we'll work closely with you to make your Puptrait session fun, enjoyable, and completely stress free. Just bring your dog and we'll take care of everything else - lights, treats, even belly rubs.
TEMPERAMENT & ABILITY-CENTRIC CONCEPTS
One of the things that draws people to dogs are their unique personalities. Between the various breed types, training levels and differences in temperament no two dogs are ever the same and neither are any two sessions. Some dogs work well off leash, but many don't. Some mutts will sit still for hours, others can only be photographed while they catch their breath between fetch sessions. We will work with you to design and capture a photo concept that works with your dog's unique and specific temperament.
REAL ROOM PRINT PROOFING
Do you know where you would like to hang your print, but you're unsure of what size to order? With our real room proofing service you no longer need to guess. Just send us a photo of your space and we'll create photorealistic mock ups roughly detailing what different sized prints of your new favorite piece of pet art will look like hanging in your home.
SITTING FEE FREE
Unlike a lot of other photo studios, we only charge for prints. Meaning we don't charge sitting fees, studio fees or session fees for non-commercial clients who meet their post shoot minimum print order commitment. However, it should be noted that we do require a nonrefundable deposit upon booking. Both deposit and minimum print order commitment amounts vary on a county by county basis, with amounts increasing the further a shoot location is from Baltimore City.
GIFT CERTIFICATES ARE AVAILABLE
We offer a number of flexible and customizable Puptrait gift options. Gift as little or as much as you'd like. You can even give a Puptrait anonymously! Just tell us how much you would like to spend, or what size prints you would like to purchase, the recipient's contact info and we'll take care of the rest. We'll even follow up with you after the shoot to show you all the fun images we were able to create because of your thoughtful gift.
Battery packs & portable lights

allow us to bring the studio

conveniently to your door or

favorite scenic location
Kitsch themes &

cheesy dog costumes

are always welcome
Advanced digital editing &

compositing techniques

allow for unique & creative

storytelling opportunities
Studio & in-home Puptraits

are now 100% sitting fee FREE with

minimum print order
View available appointment times
and reserve your session online 24/7 using the widget below

Wagging Tails
and happy clients
We had such a great time during our Puptrait session. J.B. worked tirelessly to get a great shot of our dog (she was not very cooperative). We are thrilled with the results! Thanks again for everything!
J.B. and his wife are excellent. They were very patient, friendly, and professional when shooting my dog Mac. Mac kept still for very short periods of time so when he ran off to try and go play, J.B. was very patient and understanding! They took their time and got lots of shots and took their work very seriously. I would love to work with them again and so would Mac :)
The photoshoot was so much fun! John managed to get action shots of my supremely lazy pitbull, one of which I had to have him reprint for an acquaintance who liked it so much she wanted one for her own living room wall. 10/10, would highly recommend.
What's New at the Puptrait Studio
FOR IMMEDIATE RELEASE Baltimore, Maryland, USA, February 9th, 2017  The Puptrait Studio is proud...
Come visit us at our new studio!
We are one of the few photography companies in the country with a physical studio space used exclusively for photographing dogs. Since we have a dog friendly dedicated production space, we are able to work with pets 365 days a year, 7 days a week, morning, noon and night.
Don't feel like making the drive to Baltimore? Or would simply prefer to shoot somewhere more scenic? No worries, we'll bring the studio to you. With a full array of portable light stands, professional quality strobes, and battery packs - we're ready to shoot whenever and wherever is convenient for you.
Ready to book your Puptrait session? View our availability and reserve your appointment online through our easy-to-use booking app 24 hours a day or call us at 443.604.0711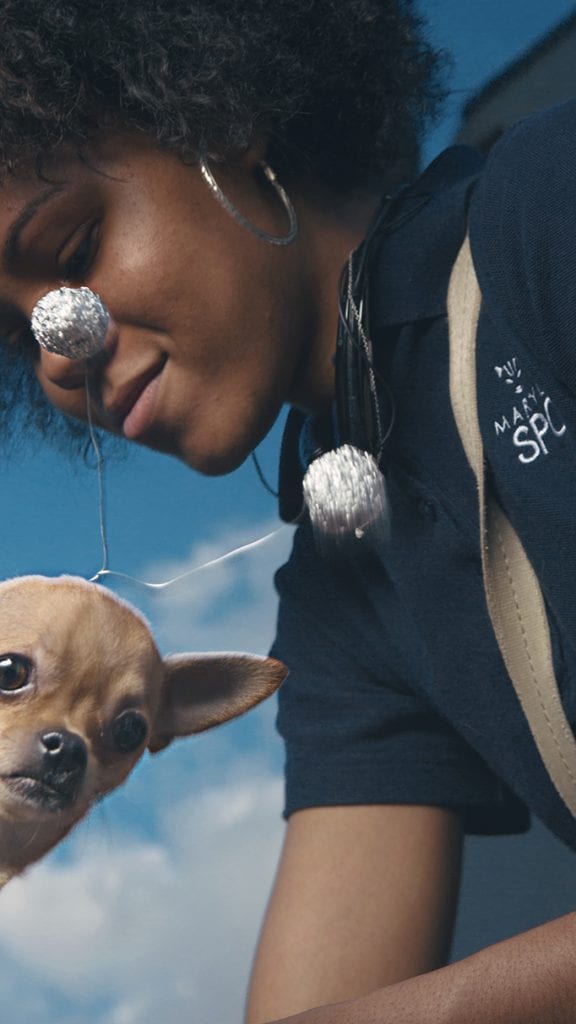 Now 100% sitting fee FREE*
*with minimum print order commitment
View availability and schedule sessions online with our easy-to-use scheduling app or send us a message using the form located below.